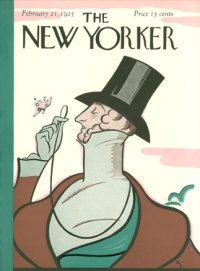 Yesterday, we asked (and answered) the question: Is The New Yorker a total bro-fest? Last night, some editors from The New Yorker, Harper's, and Granta took a moment to address it.
The question was yielded by the second annual VIDA survey, which counts the number of female contributors to lit mags, and demonstrated a disproportionate amount of male contributors in some of the most (ostensibly) intellectually progressive publications out there, especially the likes of The New Yorker, The London Review of Books, and Harper's (Granta actually performed pretty well).
Last night, at downtown indie bookstore McNally Jackson, editors gathered for a panel entitled "Behind the Curtain: A Magazine Roundtable," and the first topic was the survey.
Blogger Gabrielle Gantz of A Contextual Life was there for the talk. Of the answers given, she reports:
[New Yorker fiction editor Deborah Treisman] revealed the generational divide she sees in the submissions to her magazine. Stories from writers age 40 and up come from more men than women while with those from writers under 40 the ratio is close to an even split. [Harper's deputy editor James Marcus] admitted that the results from Harper's are "rotten" (articles written: 13 female:65 male; book reviews: 10 female:23 male; author's reviewed: 19 female:53 male). Their fiction split is close to even but because they publish foreign reportage, most of the nonfiction articles come from men. [Granta deputy editor Ellah Allfrey] was happy to report that Granta did very well, with more female contributors than male. Ellah attributes this to their magazine's tradition of publishing each issue based on a theme.
And there you have it: The New Yorker simply hears from more older men than older women and simply picks more of the younger men than they do younger women. Harper's knows they've got a problem. And Granta readily (and fairly) tooted their own gender-fairness horn but attributed it to a system more than a conscious effort.
In other words: They bro they have a broblem.
fkamer@observer.com | @weareyourfek