It's about a credit card scam and/or cats.
So nobody's going to notice if you just recycle their content aggregation for your own purposes.
Watch out for Edith Zimmerman's wrath should you refuse to acknowledge the source!
...but like, way down on the page, and it was just a link to another site, so feel free to not hat-tip.
Usually reserved for blog posts, fan fiction, or Tumblr rants.
Content aggregation highly encouraged, and Pizza Tuesdays!
Information is free. Down with the system. (Hyperlink optional.)
You don't have to link out, because they're already getting the page views from their player.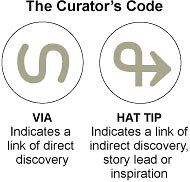 This weekend's biggest Internet news involves The Curator's Code, a new system  "for honoring the creative and intellectual labor of information discovery by making attribution consistent and codified, the celebrated norm." It involves using neat little symbols to demonstrate "hat tips" and "via" links. This way, everyone on the Internet will be rewarded for their hard work/finding that cat video before anyone else.

Already the Curator's Code– created by Maria Popova and designer Kelli Anderson because of something David Carr said on a SXSW panel they were also on–has caused the web to explode with commentary, both pro and con. Some people love the idea, some hate it, and some are just taking issue with the word "curation." But aren't we all missing the bigger picture(s) here? Hieroglyphics are the new hyperlinks! But we think the two that have been created already don't really connote all the different ways people cull information and reprocess it on the Internet. That's why we've made our own symbols, based on the hobo code. (The photos of which we took from Wikipedia. Infinity symbol?)