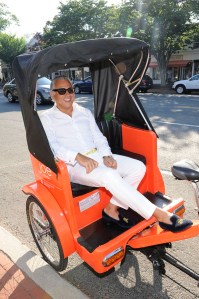 "Those things are nice, but this is about New York," Joe Mimran said last week, calling from his office in Toronto, a day after presenting the fall Joe Fresh line at the city's fashion week. "Look at where the stores are. If we wanted to be for tourists, we would be in Soho. Instead, we're on Fifth Avenue, where the New Yorkers shop. And the store on Madison has been our best." That would be 1050 Madison Avenue, in the heart of ladies who lunch and tots with disposable income territory.
Joe Mimran is the "Joe" in Joe Fresh, the closest thing Canada gets to a fashion god, their very own Tommy Hilfiger. Ralph Lauren might be more apt, as it was his company who bought Mr. Mimran's first great success, Club Monaco, in 1999 for $52.5 million. Mr. Mimran then went into consulting, which led him to Loblaws in 2002. Facing pressure in the grocery aisle from Walmart and the like, the store decided to turn the tables and began selling home goods. Mr. Mimran helped create the President's Choice Home collection, with everything from notebooks to tea towels to cheese boards. The clothes came next, in 2006.
He came along at a good time. Fast fashion was just taking off in the states, with the arrival of H&M, Zara and the Target designer collaborations, none of which had yet reached Maple Leaf country. "Certainly a lot of my peers thought, God, what are you doing," Mr. Mimran said.
"I never got into this just to make cheap clothing," he continued. "It was always my vision to make something a step up. Never underestimate the customer you're serving. That has always been my belief."
The result has been a striking collection the past few years, one that bears its own fashion identity, far from the socks and sweaters of yore. Uniqlo has a plentiful rainbow of basics. H&M translates runway styles to its stores in no time. Forever 21 just rips them off. J. Crew is classic, if staid, and quite a bit more expensive. Joe Fresh still does solid basics, from jeans to jackets, but there are also slacks with batik flowers and printed blazers—for the gentleman. Women's suits come in a riot of colors and patterns, and the fall line featured a maroon faux-fur jacket bonded to a shiny leather shell and a splotchy cableknit sweater in gray, maroon and, as with so many Joe Fresh accents, orange.
When the label was launched, it was called Project Orange, and that was nearly the name the brand was given. "Orange to me is food, which is appropriate given the context," Mr. Mimran said. "It was citrus, but it was also fresh." Instead, Joe Fresh was selected for the obvious connotations, plus the name recognition. "We had to make sure there was instant recognition," Mr. Mimran said, readily admitting his own national, if not international, cache. "It couldn't just look like another private label. This was fashion."
The fashionable seem to agree. "People love the fashion they can afford," Carine Roitfeld, the French Vogue editor and runway godhead, told The Observer at an art opening hosted by her son during Armory week.
Barney's creative ambasador-at-large and former Observer scribe Simon Doonan admitted ignorance of the brand but saw no reason it would not succeed here. "New Yorkers always give a warm welcome to breezy wholesome brands from Canada and elsewhere," he said. "Everything in Manhattan is louche and gritty and dark. We embrace anything which brings a little outdoorsy je ne said quoi."
Perhaps Joe Fresh's greatest ambassador is Joe Zee, the Elle creative director and well-known stylist. Mr. Zee worked for Mr. Mimran at his very first Club Monaco store while still a kid in high school. "It was the coolest thing in all of Toronto," he said in a phone interview from Los Angeles, where he was taking meetings for the next season of All on the Line, his fashion reality show on the Sundance Channel.
"He has the right color, the right cut, it's a very specific look, but something you won't find anywhere else," Mr. Zee said. "He just taps into the trends right now, but in a very accessible way. It's something as simple as having a V-neck sweater in just the perfect shade of gray, or the perfect shade of persimmon.