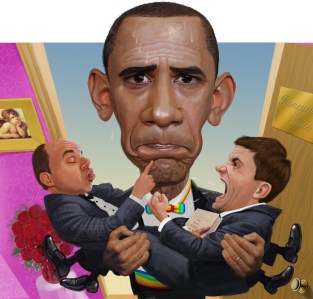 Jon Cooper first met Barack Obama in 2007, a few weeks before Obama announced a run for president and back when he was mostly known as a promising first-term U.S. senator with a gift for oration. At a low-dollar fund-raiser in Midtown Manhattan, Mr. Cooper, the president of a large electronics manufacturing company and then the majority leader of the Suffolk County Legislature, stood next to Mr. Obama after he had taken questions from guests. Mr. Cooper pulled out a Christmas card that he had mailed to friends and family and showed it to the Illinois senator.
The card showed Mr. Cooper and Robert Cooper, his domestic partner of 27 years, and the couple's five adopted children. (Robert Cooper changed his last name when the couple adopted their first child 25 years ago.)
"He told me how beautiful my family looked, and I said to him that I hoped that if you decide to run for president that you will remain a strong and consistent advocate for gay rights and for gay marriage," Mr. Cooper recalled.
The president, he said, looked him straight in the eye, put a hand on his shoulder and said, "Jon, we will get there together."
"It sent a chill down my spine," Mr. Cooper said. "This guy gets equal rights for gays. Of course he is a supporter of same-sex marriage."
Mr. Cooper became the first elected official in New York to endorse Mr. Obama's White House bid, served as the Long Island campaign chair in 2008, and was named an "Obama Victory Trustee" this year, tasked with raising at least $100,000 for the president's re-election effort.
He married his partner in 2009, in Connecticut, a few months after same-sex marriage was legalized there.
But now he wishes that his fellow advocates for marriage equality would just lay off the matter for a little while.
"I've probably met the president 15 times, Mr. Cooper said. "And I happen to believe that personally Barack does support same-sex marriage. But whether he should come out—excuse the expression—and express public support for it is another matter."
Mr. Cooper's stance puts him at odds with major gay rights groups, especially the Freedom to Marry Coalition, which, in addition to gearing up for five state referenda across the country on the issue this November, embarked earlier this year on a quixotic quest: to get the Democratic Party to include support for full marriage rights into the party platform that will be introduced and voted upon in at September's Democratic National Convention in Charlotte.