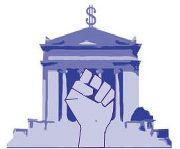 Occupy Museums, one of the art world offshoots of Occupy Wall Street, has posted on their Facebook page an open call to participate in a free art exchange. This will coincide with the Armory Show, the giant art fair that, uh, occupies Piers 92 and 94 along the Hudson this week.
According to the message:
Occupy Museums invites all artists and non-artists to join a mobile exchange art fair on the sidewalk outside of this year's Armory Show in New York City. Participants are encouraged to bring items such as paintings, drawings, sculpture, conceptual art, crafts, food, and other objects to exchange with Armory attendees and each other. We particularly welcome modes of exchange are not based on profit [sic].
We last encountered Occupy Museums protesting in front of MoMA. At the protest, Noah Fischer, the young artist and organizer of the group, shouted to the other members, "The art market is like a pyramid scheme! At the top of the pyramids are museums!"
The open call makes reference to the Armory Show of 1913, for which the more recent Armory Show (started in 1994) is named: "While the 1913 show stands for the shock of the new, the current Armory Show stands for the economic shocks administered by the 1%. While unemployment and foreclosure continue to spread, the luxury markets, including Sotheby's auction house and the Armory Show, have experienced rapid growth in line with the booming bonuses on Wall Street."
The 1913 Armory Show was notable for debuting Duchamp's Nude Descending a Staircase, among a number of other important works.
Booths at this alternative fair are free of charge, the message says.