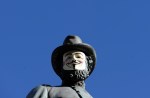 Opposing Governor Andrew Cuomo's pension plan is about to come to Zuccotti Park.
One of New York's public employee unions,  the American Federation of State, County and Municipal Employees, is holding a "Tier It Down!" rally tomorrow afternoon against  Governor Cuomo's "Tier 6" proposal, where new employees would receive scaled down pension benefits in an effort to curb costs.
The rally tomorrow comes as the union is also engaging in a television campaign against Mr. Cuomo's proposal. Other unions have decided to hold their fire, for now, but AFSCME is pushing forward.
Tomorrow's event will feature local public service employees, Reverend Billy and the Church of Earthalujah!, and "The 1707 Steppers (step-dancing daughters of local union members)."
The Zuccotti Park protest comes on "the one-year anniversary of the death of collective bargaining in Governor Scott Walker's Wisconsin."