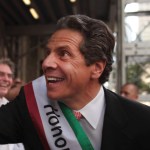 Last night, the State Legislature released a new batch of gerrymandered legislative lines and a constitutional amendment to reform the process in the future, and, further revealing his intentions this morning, Governor Andrew Cuomo trashed the alternative to him signing the Legislature's proposal, the courts intervening and drawing their own map.
(Mr. Cuomo had previously vowed to send the maps to the courts unless an independent commission drew them.)
"I'll tell you this, for those people who are arguing, 'Well, the best thing we can do is let the courts draw the lines.' We saw what happened when the court draws the lines, we have the congressional lines," he said on Fred Dicker's radio show today, referring to the court releasing its first draft of the congressional map.
Mr. Cuomo went on to raise specific issues with the court's proposal.
"First of all, the magistrate's lines were remarkably like the lines that she was given. I'd bet you that they were 98% the same," he contended. "So it's not like the court is going to start with a blank piece of paper and rewrite the lines. The lines were tweaked by the magistrate, but they were basically the Assembly and the Senate lines for the Congress."
People following the redistricting process might raise their eyebrows at Mr. Cuomo's remarks here. The court's map appeared much closer to the "Unity Map" submitted by a coalition of advocacy groups than the competing proposals from the Democratic Assembly and Republican Senate.
"Number two, the magistrate's lines have created all sorts of problems. The minority community has all sorts of issues with the congressional lines," Mr. Cuomo continued. "The theory of, 'Well, the court is the panacea,' I think we have experience and that's clearly not correct."
His comments today are the latest indication that Mr. Cuomo will ultimately settle with the Legislature if they pass additional reform measures. In the same interview, he said the legislative leaders "consulted with my people in redoing the lines," and, "I believe that they've made progress on the lines."
However, Mr. Cuomo did repeatedly insist no deal had yet been made, demanding the need for an additional "statute" cementing reform proposals into law for the redistricting plan to avoid his veto pen.