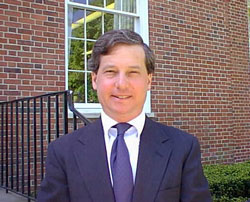 With Assemblyman George Latimer looking to possibly run for retiring Westchester State Senator Suzi Oppenheimer's seat this year, Ms. Oppenheimer's Chief of Staff, Steve Otis, has taken out a campaign committee for Mr. Latimer's seat, possibly suggesting Mr. Latimer is leaning towards that ultimate run for the State Senate himself in this game of political dominoes.
Mr. Otis, a former mayor of Rye, had long signaled his possible interest in the campaign.
"The experience I have gained from working closely with Suzi Oppenheimer for 26 years, as well as my 12 years as mayor of Rye, have provided me with a deep knowledge of issues important to Westchester residents, such as education, flood mitigation, tax relief, the environment and bringing change and innovation to lower the cost of government," he told Politics on the Hudson last January.
"We need effective representation, and I would be eager to use these skills to serve our area in the state Assembly."
Update: The Politicker reached out to Mr. Otis and he reiterated he was "definitely" running if Mr. Latimer seeks higher office, but that is currently up in the air at the moment.
"I am deferring to his decision. I am not going to announce until he announces what he decides to do," he said.