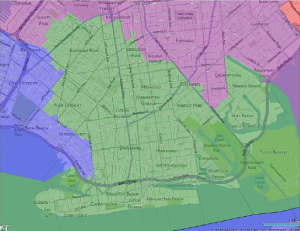 Last week, the judge in the redistricting case took submissions from the public on where New York's new congressional lines should lie, and one group, "the Orthodox Alliance for Liberty," submitted a plan aiming to unite as many Jewish communities as possible, especially Orthodox Jewish neighborhoods in Brooklyn, Queens, Nassau, and upstate.
In order to justify their proposal, the group argued the lines proposed by the legislative majorities, as well as the existing congressional boundaries, are wholly unacceptable.
"The current districting of the Orthodox Jewish neighborhoods in the New York City and Long Island area, as well as the maps proposed by the New York State Senate and Assembly majorities are untenable," they wrote to the court. "The sizable, distinct and ethnic and racial group of Orthodox Jews has been systematically deprived of just representation in the U.S. Congress. This Orthodox Alliance for Liberty implores the Honorable Court to correct an egregious wrong and restore a full voice for New York's Orthodox Jews in the U.S. Congress."
The organization provided an example of this cartographic wrongdoing.
"Nowhere in the United States has a single neighborhood been broken into more than three Congressional districts, outside of 'Flatbush," they stated. "Flatbush, in fact, has been divided into no less than five congressional districts. Borough Park, as well, an undeniable strong concentration of Chassidic, Orthodox Jewish New Yorkers, has also been gerrymandered into political irrelevance."
Notably, the group proposed a new district in southern Brooklyn containing the Orthodox and Russian Jewish neighborhoods previously held by Representatives Bob Turner and Jerry Nadler. Combined with traditionally Republican Irish and Italian areas, the district would undoubtedly be one of the most ideologically conservative seats in New York State.
(Mr. Turner's house in Breezy Point is connected to Staten Island in the proposal.)
Other parts of the group's proposed map seek to connect the Hasidic communities in Crown Heights and Williamsburg, as well as in the Orthodox Jewish communities in the Far Rockaways and parts of Nassau County.
Read the group's full pitch, including for why these areas deserve to be classified as a community of interest, below: