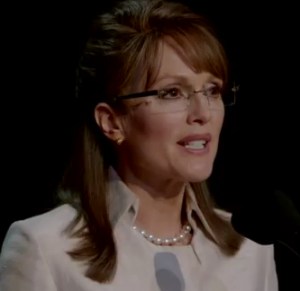 Sarah Palin's former stylist, Lisa Kline, appeared on a pro-Palin internet radio show dedicated to debunking HBO's controversial 2008 election drama "Game Change" today to say her boss took fashion very seriously in spite of the way she's depicted in the movie. Ms. Kline gave "Game Change" a generally positive review, but she quibbled with a scene that showed the actress Julianne Moore portraying Ms. Palin mispronouncing the name of fashion designer Jimmy Choo and taking a cavalier attitude toward her clothing.
"The only specific scene that I have a problem with is when Julianne as the character Sarah mispronounced Jimmy Choo. It was only a small dramatic license, but that never happened, and they also portray Sarah as having fun with the clothing and the real Sarah took it more seriously," Ms. Kline said in her appearance on "Sarah Palin Radio."
Ms. Kline, who said she played "a small part" in "Game Change," was invited to watch the movie at the splashy New York City premiere last night. "Sarah Palin Radio" is "an independent program that supports Gov. Sarah Palin." The show's host, LaDonna Hale Curzon, said she invited Ms. Kline to come on as part of a series in which she's conducting "interviews with several people who were portrayed in the movie" as part of an effort "to get to the truth of the matter and expose 'Game Change' for what it really is, an attempt to smear Sarah Palin." Ms. Kline said a scene showing her dressing Ms. Palin was "inaccurate."
"The actual scene was inaccurate. Sarah did not have fun with the clothes," Ms. Kline said. "The scene, which you'll see when you see the movie, has music and it looks as though she's enjoying the clothing, as though it was some form of a small party, when indeed, she really did take the clothing seriously and her appearance, as do all women."
Though she objected to "Game Change's" depiction of Ms. Palin's sartorial sensibilities, by and large, she gave the movie a thumb's up.
"The movie, as a movie, was very well directed and the actors were amazing in the roles in which they played. Julianne Moore did a superb job as her portrayal," Ms. Kline said.
"Game Change" is based on a book of the same name by journalists John Heilemann and Mark Halperin, which presented a behind-the-scenes look at the election. Danny Strong, who wrote the screenplay, also did his own reporting, Ms. Kline said Ms. Strong had "a brief discussion" with her as part of his research. Despite her gripe with the tone of the clothing scene, Ms. Kline said she was pleased Mr. Strong didn't place too much emphasis on Ms. Palin's fashion choices.
"I think they were actually fair in not to devote so much time in the movie to the wardrobe and I tried to emphasize that in my meeting with him," Ms. Kline said.
Ms. Palin, who has not seen the movie , is none too pleased with "Game Change." Last week, she released a video to supporters calling the film "fiction" and accusing HBO of "manipulating facts" to push a "biased agenda."
"Game Change" premieres on HBO March 10. Listen to Ms. Kline's appearance on "Sarah Palin Radio" below.
[protected-iframe id="e37e8dd779da8d4a9f6e7e5fb2674879-35584880-53155743″ info="http://www.blogtalkradio.com/btrplayer.swf" width="210″ height="105″]