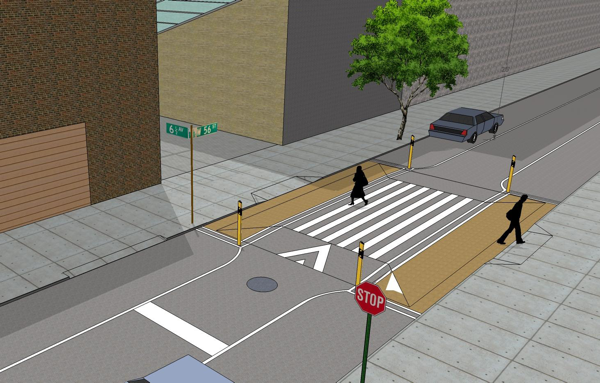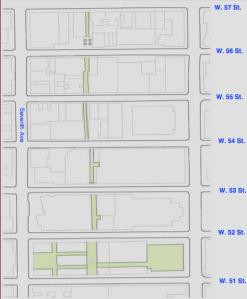 Watch out Midtown landlords—here come the crowds.
After a laudatory public hearing, Community Board 5' Transportation Committee unanimously approved the Department of Transportation's proposal for 6½th Avenue, a string of crosswalks connecting public spaces in a handful of Midtown towers.  A few in the crowd of about 30 admitted to not knowing about the chain of public plazas running from 51st Street to 57th Street between 6th and 7th Avenue, but most said they had long used them as a secret passageway through Midtown and welcomed their formal recognition by the city.
"I worked at one end and lived at the other for years," said Joel Maxman, a member of the transportation committee, before casting his vote. "I used them whenever I could, so I think this is a fantastic idea."
Slideshow: Take a stroll down 6½ Avenue. >>
Some board members questioned whether stop signs would not create too much disruption for Midtown traffic, but even that could not fully dissuade them from the plan. "It'll be a like a game of whack-a-mole," Kate McDonough, another committee member, told The Observer after the vote. "If every car has to stop, it could create mayhem. I still support it, but I'm very much concerned about crosstown traffic. We'll have to wait and see."
She said she was especially concerned about spillover traffic onto 50th and 58th streets, which are fairly residential, and thought yield signs might present a better alternative. George Haikalis said he worried that the stop signs might morph into full-on stop lights, creating greater vehicular congestion.
The plan still has to win the approval of the full community board on April 12, when a broader mix of interests will be present, including landlords and residents not so intimately interested in the nuances of crosswalk striping. Some members are fed up with what they see as an imperious transportation commissioner who builds whatever infrastructure she wants.
And the plan is still under scrutiny from the transportation committee, which approved the plan with the caveat that the department study the results of the roadwork and present its finding in November. The crosswalks are scheduled for installation in July if it wins full-board support, and any challenges are meant to be addressed in the fall.
Even with these concerns, the crowd seemed in awe of the idea. When a department official mentioned that street signs (52nd Streets, 53rd Street, etc.) would accompany the program, the room gasped, as though the idea had come from god himself. "So often you'll be walking through the plazas and realize you've gone a block too far," one attendee said.
"It's $60,000 to do all of this?" David Grider, an architect and chairman of Friends of POPS, said after the vote. "It's wonderful. It just seems like very responsible low-hanging fruit."
It just makes so much sense, Mr. Maxman said. "The bottom line is all they're doing is putting crosswalks in where crosswalks already should have been because people are already crossing there," he told The Observer. "It's so simple and obvious."