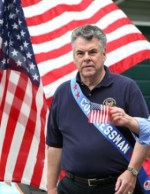 Peter King appeared on the radio show of his favorite insult companion, Don Imus, today to talk about Gov. Chris Christie's anger over the New York Police Department's spying in New Jersey.
According to Mr. King, Gov. Christie "resents Ray Kelly."
"I did sense that when Gov. Christie was U.S. attorney in New Jersey and he had a phone conversation with Ray Kelly on something and he didn't think Ray Kelly showed him enough respect, and I think that is still lingering out there."
Mr. Imus then cut in–as only Mr. Imus can–to say that Mr. Kelly probably thought Mr. Christie was "just some fat mook from New Jersey."
Gov. Christie has said that he did not know about the NYPD's spying effort in his territory, and accused the police of acting "out of arrogance or out of paranoia or out of both."
Mr. King however said that Gov. Christie was letting his personal feelings get in the way of keeping his constituents safe.
For more on Mr. King's thoughts on Anthony Weiner, pornography, the Republican presidential race and how he just wishes Mr. Imus would go ahead and die already, watch below: