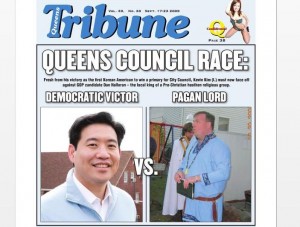 As the various candidates compete for an open congressional seat in Queens, the Queens Chronicle let it be known that it is watching the Queens Tribune.
In Dan Halloran's 2009 City Council campaign the Queens Tribune ran a front-page headline calling him a "pagan lord" and his opponent Kevin Kim a "Democratic victor," a severe sign of bias, according to the Chronicle.
"We do not engage in such reporting," they wrote in a recent editorial. "Nor do we have a supposedly unrelated political consulting firm operating out of our office under the command of one of our top managers, as the Tribune does. That firm was paid $228,000 by the Kim campaign. Decide for yourself how much that may have influenced the paper's coverage."
The Tribune's editor defended the decision at the time and contended the story had nothing to do with the political consulting firm run out of its office, Multi-Media.
Although Mr. Halloran may now be at peace with the Tribune, the Chronicle is suspicious as one of the Democratic candidates in the congressional campaign, Assemblywoman Grace Meng, has retained Multi-Media.
"That's not to say we won't make mistakes; we have and will. But we will not engage in underhanded campaigning disguised as journalism, and we hope none of our competitors do either," the Chronicle rather sharply concluded.