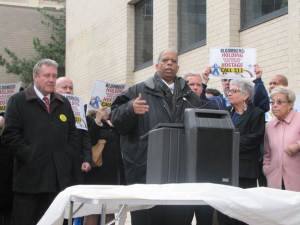 Members of the City Council's Queens delegation are fighting back against the Department of Education's plan to close eight schools in Queens. All of the schools were part of the Restart or Transformation model programs. The delegations held a rally against the closures yeasterday and is sending a letter to Mayor Michael Bloomberg and Schools Chancellor Dennis Walcott.
"The common dominator to the eight schools slated to be closed is that they all service high rates of English Language Learners and Special Needs children," Councilwoman Diana Reyna said at the rally. "By turning his back to students with the highest need, Mayor Bloomberg is abandoning the principle of equal opportunity for all children regardless of race or disability. This Mayor claims to be known as the "Education Mayor," but I think a more accurate title is the 'Highest School Dropout Mayor.'"
The final decision on these eight schools will be made within a month. In his remarks at the rally against the closures, Councilman Leroy Comrie, said the schools in question have all shown recent improvement.
"Even under the Department of Education's standards, the schools that are slated to be closed have shown improvement since being put into the Restart/Transformation models," Mr. Comrie said, "Closing these schools would hinder our children's access to the quality of education that they deserve. The Mayor should step in and allow these schools to continue to educate our children."
The members of the Council's Queens delegation were joined at the protest by Queens borough president Helen Marshall.
"This controversial closure plan involves schools that have already improved and now need stability and a stable future," Ms. Marshall said.
School closures have proved to be a hotbutton issue of late for Mayor Bloomberg. Closures in Harlem led Assemblyman Keith Wright to call for legislation ending mayoral control of schools in January.