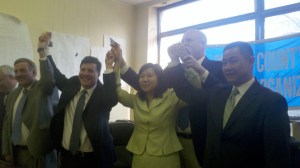 District Leaders and elected officials crowded into the Queens County Democrats' headquarters this morning to unanimously endorse Assemblywoman Grace Meng for the Congressional District Gary Ackerman spontaneously declined to run for last week. If Ms. Meng wins, she'll be the first Asian-American Member of Congress from New York.
Congressman Joe Crowley, who heads the Queens County Democratic Party, paid constant homage to the new district's demographic makeup when explaining his party's decision to back Ms. Meng. The new court-drawn map makes the 6th district plurality-Asian, but Mr. Crowley also argued for her ability to win throughout the eastern Queens seat.
"It is a very diverse district and I think Grace Meng has the ability to transcend her base of support, which is largely based in the Asian-American community," he told reporters after the meeting.
The elected officials nominating Ms. Meng — Councilman Mark Weprin, Councilwoman Karen Koslowitz and State Senator Toby Ann Stavisky — seemed to send a message of support for Ms. Meng to the district's substantial Jewish community as well.
"Two years ago … I was delighted to have Grace and her husband Wayne over to our home for passover, believe it or not, for a Passover Seder, which she participated in and had a great time," Mr. Weprin said to introduce Ms. Meng.
Not present today were any of her potential challengers in the Democratic primary like Assemblyman Rory Lancman, State Senator Tony Avella, and Councilwoman Liz Crowley.
Mr. Crowley urged the other potential candidates, including his cousin Ms. Crowley, to rally behind Ms. Meng's candidacy.
"It's my hope that we as Democrrats can come back and get behind one candidate. I recognize that this is a Democratic primary and we're known for our spirited primaries from time to time," he said. However, he was confident Ms. Meng would ultimately be victorious, noting, "Queens likes to make history."
Mr. Lancman looks to be pushing his campaign full steam ahead despite Mr. Crowley's request. He's officially announcing his campaign at 3 p.m. today. Ms. Crowley is expected to announce soon.