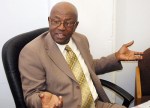 The Queens County Democratic Party announced today that were supporting Brooklyn Congressman Ed Towns in his re-election bid.
We were confused too, until a brief look at Mr. Towns' new district map revealed that his Central Brooklyn district now stretches to parts of Ozone Park and Howard Beach in Queens.
"I am pleased to have the opportunity to support the re-election of Congressman Ed Towns now that he will be representing a portion of the Borough of Queens," said Queens County Democratic leader Joe Crowley in a statement.  "It is important that we keep him in Congress where his leadership and seniority are critical to the Democratic Party's success in fighting back against the radical Republican agenda."
Mr. Towns is locked in a fierce three-way primary battle with Assemblyman Hakeem Jeffries and City Councilman Charles Barron.  A bigger endorsement fish however will be determined tonight when the Working Families Party meets to hold their endorsement meeting in the race. According to sources aligned with the WFP, Mr. Jeffries is the odds-on favorite to receive the party's backing, since he already has received endorsements from key labor unions that are a part of the WFP coalition.
Mr. Towns however also has support from key parts of the Working Families Party in the past, including the Teamsters and 1199. All three candidates have been said to be aggressively lobbying for the party's nod.
Update: Leah Gonzalez, a spokeswoman for 1199, notes that it has been a while since the union backed Mr. Towns.
"Your blog post reference to 1199 is wrong.  We have not endorsed or contributed to Congressman Towns since at least 2006 and have remained neutral in the various primary challenges he has faced in the last few election cycles."