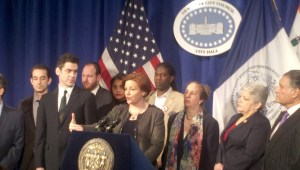 Yesterday afternoon, Mayor Bloomberg took an unusual step in what appeared to be a press conference designed to preempt the City Council hearing today on reforming the restaurant grading system. Touting all of the health improvements since the new system was implemented, Mr. Bloomberg argued critics' "complaints are going to fall on deaf ears."
Asked about Mr. Bloomberg's comments during her press conference today, City Council Speaker Christine Quinn disagreed.
"We're not complaining today," she responded. "We're having a thoughtful oversight discussion … between branches of government in a discussion that I believe will generate ideas that deserve consideration. We're not complaining, so then it's irrelevant to what the mayor said."
After the press conference, the City Council conducted its hearing on how to streamline and standardize the restaurant grading system. Whether or not their eventual recommendations will place them on a collision course with Mr. Bloomberg is unknown, but from his comments yesterday, he seemed to be digging in.
However, Mr. Bloomberg may need to come on board for their suggestions to take effect. Asked if her solutions would require City Council legislation, Ms. Quinn leaned towards simple changes in policy within Mr. Bloomberg's Department of Health.
"Some of it could be legislated," she said. "Some of it I hope will end up becoming parts of conversations that come out of the hearings. … I honestly don't want come off cheeky, but we're not complaining here. We're talking about constructive ideas that make the system better. "
One of Ms. Quinn's examples of a possible improvement to the system is providing a Department of Health ombudsperson to act as a help line for perplexed restaurateurs.
"[You] call up and say, 'Hey, I'm confused. I want to do the right thing, but I'm being told I can't have sushi rice out at all. I'm being told I can have it out for a period of time. I'm being told I can have it out if I'm using vinegar. What do I do?'  An ombudsperson could help you answer those questions without all of the fines, stress and confusion," she explained.
"We also could do things that might seem silly but would make a big difference," she added.
"Right now, when inspectors come into a restaurant just for a regular inspection, they're wearing jackets that say 'Department of Health Food Inspector' on the back.  Think about what that does to your lunch hour rush … If they came just in street clothes, that'd make a big difference."
Watch Ms. Quinn respond to questions during the press conference below: