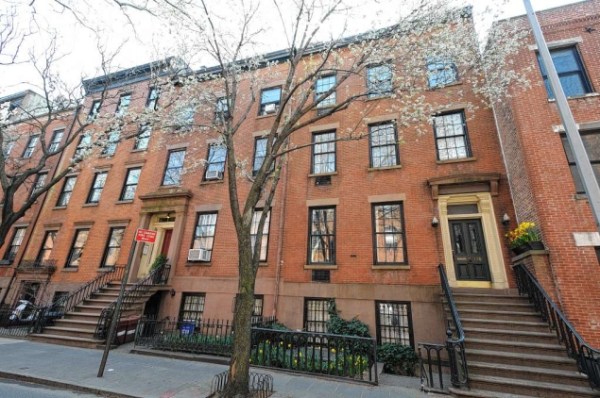 The human embodiment of our very own Carrie Bradshaw might be moving to Brooklyn. Oh, how the times have changed since the writer lived in her rent-controlled apartment on the Upper East Side in 1994.
Now, the Observer has chased Sarah Jessica Parker and Matthew Broderick, her husband, around town tracking their real estate decisions. (It wasn't that hard; the Observer created her mind.) The real estate desk might have even blown her cover with 88 CPW, but it appeared that she never really left the West Village.
Perhaps fleeing out of the scope of our all-seeing real estate eyes, the couple is reported to be closing on two townhouses on State Street in Brooklyn Heights, the Daily News noted. The two townhouses will be combined to create a 7,000 square foot "urban mansion." The current asking price is $18.995 million, precisely what the famous couple paid for their West Village townhouse a little less than a year ago.
There are still some outstanding remarks, however:
"They loved the West Village but wanted something more private, laid-back and discreet," says a source familiar with negotiations.
She wrote about her sexcapades for years and now she wants privacy?! Blasphemy!
"The price difference between the West Village and Brooklyn Heights is sometimes two, three, four times the amount. That's why even big names are deciding to live here. It's an easier financial commitment."
If only she actually had the rent-controlled apartment on the UES.
But wait a minute – Candace Bushnell never wrote about moving to Brooklyn in any of the columns. This isn't allowed!
mewing@observer.com