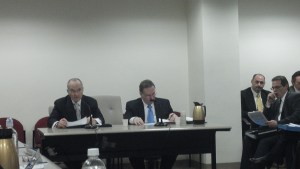 NYPD Commissioner Ray Kelly fielded questions on the department's controversial stop-and-frisk and Muslim surveillance programs during a contentious hearing of the City Council Public Safety Committee. Mr. Kelly was ostensibly testifying about the NYPD's preliminary budget for the coming fiscal year, but the hearing quickly turned into a heated discussion of the department's most controversial policies when committee members questioned the commissioner following his testimony.
Mr. Kelly began his testimony by praising the NYPD for reducing crime in the city to historically low levels.
"Last year, we saw continued, outstanding work from our police officers," Mr. Kelly said. "We ended 2011 with the lowest murder total in half a century and the lowest rate of auto theft in modern memory."
Mr. Kelly said the controversial practice of stop-and-frisk, which rose to record levels last year, was one of the factors that  helped "make this historic reduction in crime possible." In his testimony, Mr. Kelly pointed out "about half" of stops result in a "limited pat-down" and "only 9 percent involve a more thorough search."
"We utilize the long-established right of the police to stop and question individuals about whom we have reasonable suspicion," Mr. Kelly said.
Critics of stop-and-frisk point to the fact it is disproportionately deployed in minority communities. They also cite the fact that last year's nearly 700,000 stops only resulted in the seizure of approximately 800 illegal guns. Mr. Kelly said the majority of gun violence occurs in minority neighborhoods and said analyzing stops by race rather than looking at crime statistics is faulty logic.
"Our critics use a thoroughly discredited model of applying pure census numbers to analyze stops by race," Mr. Kelly said. "If we conducted stops according to census data, half of all stops would be women."
Mr. Kelly also addressed criticism of the NYPD's widespread surveillance program in the Muslim community, which was the subject of a critical series by the Associated Press that has drawn widespread attention. The commissioner described this program as an integral part of a counterterrorism program that foiled "14 attempted plots in past ten years." Mr. Kelly also said all surveillance efforts followed federal guidelines.
"In gathering intelligence, we adhere to a set of federal guidelines, the revised Handschu consent decree."
Some of the NYPD's investigations of the Muslim community took officers to New Jersey. These out-of-state missions have been a major target of critics including New Jersey Governor Chris Christie and other Garden State elected officials who say they were not notified of the NYPD investigations. Mr. Kelly dismissed these claims in his Council testimony.
"It is also entirely legal for the police department to conduct investigations outisde of city limits and we maintain very close relationships with local authorities," he said.
Once Mr. Kelly's testimony concluded, the committee chairman, Councilman Peter Vallone Jr.,  opened up the floor to questions from his fellow committee members. Melissa Mark-Viverito got into a testy exchange with Mr. Kelly about a recent Quinnipiac poll, which showed racial disparities in the way people view stop-and-frisk and Muslim surveillance.
"Overall people, yes, are supportive of these efforts, but when you start digging at the numbers, 59 percent of whites approve of stop-and-frisk policies, 27 percent of blacks approve. That is a large large gap in the sentiment," Ms. Mark-Viverito said. "When it comes to Muslim surveillance, 22 percent of whites think the NYPD is unfairly targeting Muslims … 41 percent of blacks. Now, you as Commissioner are in charge of the safety and security for all New Yorkers, do those figures cause any sense of concern for you."
Mr. Kelly began to answer.
"Let me say this, in terms of the stop-and-frisk policy–"
Ms. Mark-Viverito cut him off before he could finish.
"Commissioner, I'm sorry. I want to respect you, but I just want you to answer that specific question," Ms. Mark-Viverito said. "Do those numbers, the gap in the way the sentiment is expressed by people of color in the city, does that have any concern to you?"
Mr. Kelly and Ms. Mark-Viverito both began speaking over each other and nearly got into a full-fledged shouting match. Mr. Kelly argued that minority communities are disproportionately affected by violent crime, so stop-and-frisk is benefiting those areas.
"Let me tell you something that also should be a concern to you," Mr. Kelly said. "96 percent of the shooting victims in this city are people of color, 90 percent of the murder victims are people of color. Now, stop and question is one of the strategies that we use, there's a whole host of others that have reduced crime in this city significantly. … Who do you think's lives are being saved?"
Ms. Mark-Viverito countered by saying, regardless of the intended affect of these policies, they hurt the department's relationship with minorities.
"My community feels under siege and I understand what you're saying about the intent, but what I'm saying is that there has to be an acknowledgment that we can always fine-tune and improve our policies and practices," she said.
Mr. Kelly responded that police work often causes tension and said critics of stop-and-frisk and minority political leaders don't identify alternative solutions to reduce crime.
"There's always an issue of tension because of what we do. Yes, the police arrest people, we use force, we're the bearers of bad news, we do stop and question people," Mr. Kelly said. "What I haven't heard is any solution to the violence problem in these communities. People are upset about being stopped, yet what is the answer? What have you said about how do we stop this violence? What have leaders of the communities of color said? What is their tactic and strategy to get guns off the street?"
As her time ran out, Ms. Mark-Viverito agreed there should be a deeper discussion about fighting crime, but she stuck to her point Mr. Kelly should express concern about the perception of stop-and-frisk in the minority community.
"There needs to be prevention and deeper community based tactics," Ms. Mark-Viverito said. "I would agree with you there, but I think there has to be an acknowledgement."
During Ms. Viverito's testy back-and-forth with Mr. Kelly, one of the most outspoken critics of stop-and-frisk, Councilman Jumaane Williams turned to Councilman Dan Halloran and quietly whispered, "This is going to be fun."
Prior to the hearing, Mr. Williams and Councilman Brad Lander held a press conference inspired by stop-and-frisk on the City Hall steps where they called for the appointment of an NYPD Inspector General to guard against abuses of civil liberties by the police.
Since Ms. Viverito's time was up, Mr. Vallone stopped her by saying, "I'm sure that's going to be continued with some other Council members. Mr. Williams, who was wearing an anti-stop-and-frisk pin and recently debated against Mr. Vallone about stop-and-frisk on the Huffington Post jokingly responded, "Not me."
"Jumaane do you have your button on today?" Mr. Vallone asked.
Mr. Kelly's next heated exchange was with Councilman Robert Jackson. Mr. Jackson brought up allegedly untruthful statements made by the NYPD's top spokesman, Paul Browne, in conjunction with the Muslim surveillance program and the department's screening of a controversial anti-Muslim training video.
"Some of the responses by your deputy commissioner in respect to questions that were asked by media where false information was given, or incorrect information concerning surveillance, and about the videos and what have you, leads to question the honesty and integrity of responses by NYPD to questions from the media," Mr. Jackson said. "I question the honesty and integrity. … The Deputy Commissioner needs to be held responsible for giving incorrect answers to these types of questions that are put forward to him by the press and others."
"I won't even bother," Mr. Kelly answered sparking another near shouting match where he and Mr. Jackson repeatedly spoke over each other.
"No Ray Kelly,"  Mr. Jackson said. "When you have a deputy commissioner that has all of the staff available, when he's asked a question and he gives an answer, OK, which is totally incorrect, then you start to question the honesty, integrity of his responses. And the bottom line is, that you're the commissioner and you're totally responsible for everything under your jurisdiction."
Mr. Kelly described the discrepancy over Mr. Browne's description of his appearance in the anti-Muslim training video as an honest mistake.
"He first said that he thought it was outtakes. I was in that movie for 16 seconds, by the way, where I talked about the nuclear threat to the city. So, that was incorrect, because I do a lot of interviews," Mr. Kelly said. "I think that was the fundamental issue, as to whether that was an outtake or I was in the movie. We then admitted that it was a mistake. He made a mistake. He said it many, many times. … We're a big organization, we have a lot of interactions with a lot of people."
Mr. Williams eventually got his chance to question Mr. Kelly. He pointed to specific, predominantly minority police precincts in Brooklyn where there are high numbers of stop and frisks and rising numbers of shooting incidents.
"Can you explain the discrepancies between the stop-and-frisks you do in these districts and the gun violence not going down?" Mr. Williams asked.
"Well. I think overall violence is going down, when you look at the big picture," Mr. Kelly answered.
Mr. Williams responded to Mr. Kelly by saying he was discussing the specific communities "that are most impacted by the gun violence that you continually say leaders and elected officials like myself don't care about, or are not giving answers to."
Mr. Kelly answered with a curt retort.
"Well, you're not giving answers," he said. "You don't have any answers."
Mr. Williams pointed to comments Mr. Kelly made earlier in the hearing implying gun buyback programs are the only response elected officials who criticize stop-and-frisk have to violent crime.
"You poo pooed gun buyback programs," Mr. Williams said. "I had one in November, 85 guns off the street, one tenth of what you did with 700,000 stop question and frisks."
"I didn't poo poo it," Mr. Kelly said. "It's of value, but that's all you hear from elected people. That's the only answer that elected officials have."
After Mr. Williams' question, Mr. Vallone announced there would only be two more questioners, because the hearing was already running about ten minutes late.
"Thank you Mr. Chairman, for your commitment to the 12 o'clock cutoff," Mr. Kelly said.
"No one tries harder than I do commissioner," Mr. Vallone said.
"Well, you did not succeed," Mr. Kelly answered.
Despite his frustration with Mr. Vallone for not ending the hearing on time, when the final questioner, Councilwoman Tish James, raised her own questions about the effectiveness of stop-and-frisk, Mr. Kelly recommended she read Mr. Vallone's pro-stop-and-frisk portion of the Huffington Post debate with Mr. Williams.
"What about mine?" Mr. Williams asked as the hearing let out. "What about my article commissioner?"
Mr. Kelly didn't respond. After the nearly three hour hearing was over, he took questions from reporters in the lobby. The Politicker asked him if he was disturbed so many of the committee members focused on the controversies surrounding the department rather than the preliminary budget, which was the topic at hand.
"No. I've been here many times before with these hearings," Mr. Kelly said. "It's the way they sometimes go."
Another reporter asked Mr. Kelly what his reaction was to the hearing since it "seemed like it got pretty heated in there."
"Not really," Mr. Kelly said. "You know, I've been around a long time. Sometimes they get heated, sometimes they don't."