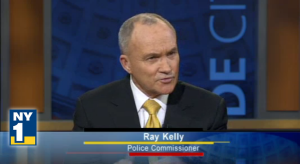 New York Police Commissioner Ray Kelly went on Inside City Hall last night to discuss, among other things, his department's controversial surveillance of Muslim businesses and communities unearthed by The Associated Press.
"We're sort of under attack," Mr. Kelly said, arguing the AP fostered a narrative that his department has done something illegal. "The AP has done over 30 stories. It's pretty tough to go up against a wire service that has a certain template that it's sticking to."
"I would submit that they have not done their homework in terms of the Department of Justice Guidelines and the Handschuh stipulations. Right in there it's authorized to do what we're doing," he added.
When the host, Josh Robin, pointed out that criticism of the NYPD's surveillance activities extended beyond just the AP, bringing up U.S. Attorney General Eric Holder statement that he was "disturbed" by the reports, Mr. Kelly brought the discussion back to the wire service.
He responded, "Eric Holder said he only knows what he reads in the newspaper, so it does get back to The Associated Press."