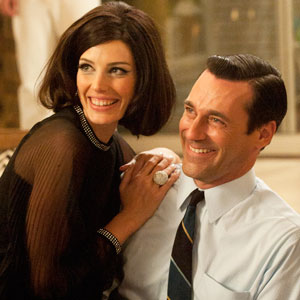 Feel that buzzing, tingling sound in the part of your brain devoted to recapitulations of things you've already seen? Recap season kicked off with the recent return of Community, but now it's in full swing on occasion of last night's season premiere of Mad Men, two hours notable mainly for co-star Jessica Paré singing a French pop song whose history was noted by the Daily Beast later that night. Seventeen months away from literal armchair analysis of Don Draper and Gen-X-ers' sage nods about how the 1960s really were has made the genre enter a high decadent phase. Herewith, five of the top morning-after Mad Men recaps, recapped!
Word count: 2676
Broad thematic analysis: "It's a show, on the one hand, about how people deal  with sweeping social change, even when it's happening way, way off their radar (as we see in the final scene of tonight's episode), but it's also a show about what it means to live through a decade, to get older and have your position and relationships shift and change."
Plot summary: "He wants to sleep. He didn't want the party, and he's embarrassed to have been the center of attention. Betty was forbidden from throwing such parties, he says, and he didn't celebrate birthdays growing up."
What about that song? "…it's both sexy and just the slightest bit creepy."
Profundity at the end: "Yet here they are, staring in the mirror, on the other side of 40, time nearing its end."
Number of comments, at this writing: 1130
Word count: 3067
Broad thematic analysis: "Envy, disappointment, and fear of losing what you've got: These feelings have always powered subplots on Mad Men, but they're front and center in 'A Little Kiss,' a classically structured, self-contained, long-form piece."
Plot summary: "By the close of the episode, Megan has broken down in tears and left work early; when Don finds out and follows her home, she removes her robe and begins cleaning the post-party mess in black underwear, giving her husband a tantalizing rear view of the body he can't have because she's decided he doesn't deserve it."
What about that song? "Megan's unselfconscious abandon — and Jessica Paré's slinky-innocent performance, which I suspect will be looked back on as the moment that made her a star — also confronts Don, and other characters, with another harsh fact of life: none of them are getting any younger, or hipper."
Profundity at the end: "Change is on the horizon, a great sociohistorical wave that's about to wash away a lot of what the once-dominant older generation insisted was important. It happens every couple of decades and always will happen; it's part of the cycles of individual and national life that Mad Men, a timeless drama posing as a time-specific one, examines so well."
Number of comments, at this writing: 91
Word count: 3526 over five pages–and part two just went up
Broad thematic analysis: "The year: 1966. Our drop point: The week surrounding Memorial Day, a holiday that was originally intended to honor the Union soldiers who fought and died during The Civil War. With a heavy hand, Mad Men's opening sequence reminded us that 100 years after the end of slavery, the cause of civil rights still had miles to go."
Plot summary: "Later, when Don was ready to leave for the day, he fetched Megan from the creative bullpen, oblivious to the cues she was giving him. She was working. She wanted to keep working."
What about that song? "Beholding Megan in bawdy bloom, the invited guests toggled between amusement, polite support, furrowed eyebrow bafflement and wide-eyed shock."
Profundity at the end: "No: Don gets what Don wants. He wanted her – and he was damn certain she wanted him. A hard kiss, and then they hit the shag."
Number of comments, at this writing: 9.
Maureen Ryan, The Huffington Post
Word count: 3609
Broad thematic analysis: "And why are these characters so unhappy? I've been thinking a lot lately about how Mad Men is, in some ways, a meditation on narcissism (as was The Sopranos before it). All of these characters are trapped inside their own concerns and frequently unable to see beyond their own agendas and desires."
Plot summary: "Joan loves her baby, but she wanted to go back to work because she's good at it, she derives a sense of satisfaction from it and she commands a lot of hard-won respect at the firm, which she helped build."
What about that song? "The naive French-Canadian minx was undeniably sexy during her dance, but the look on his face said that Don would have rather gotten a private dance and not have had his wife displaying her wares for everyone from a slack-jawed Harry to Don's rumpled accountant."
Profundity at the end: "'You don't know her at all,' Don says about Megan. But does he really know her? Time will tell."
Number of comments, at this writing: 157.
Word count: 2737
Broad thematic analysis: "'A genuine leader is not a searcher for consensus but a molder of consensus.' Martin Luther King Jr. said that, and he was not talking about advertising. But it's a piece of wisdom that applies, on a number of levels, to Sunday night's season-five premiere of Mad Men."
Plot summary: "The big client this round is Heinz Baked Beans. There have been technological advances in pitching. During the meeting, Peggy alludes to a camera that can capture slow-motion, and the pitch itself is presented on storyboards shaped like television sets.."
What about that song? "I wasn't sure if she was saying 'bissou' or 'zoobie zoo,' but she's hot and it doesn't matter."
Profundity at the end: "Zoobie-zoo what?! I need a drink."
Number of comments, at this writing: Comments not enabled.