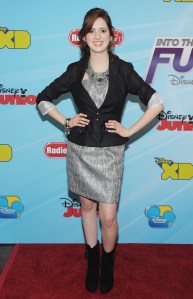 We'll be recapping the TV "upfront" presentations as they happen! First up: Last night's Disney Channel presentation at the Hard Rock Cafe in Times Square.
The setting: Oddly undisguised in the adultness of its trappings; Hard Rock's giant picture of Janis Joplin and posters for the likes of Slayer and The Cramps gazed down upon "Hip-Hop Mickey"–a Mickey Mouse mascot leading children in a dance-off to "We Found Love" as Radio Disney deejays looked on and ad reps waited for the presentation.
The refreshments: One bar open only for one hour, a table of hummus and cheese, passed hors d'ouevres on Lucite trays with built-in glowsticks, passed sippy cups of juice on Lucite trays with built-in glowsticks, buffet including macaroni and cheese and burgers.
Songs of note: The Selena Gomez ouevre, "Part of Me" by Katy Perry, "Firework" by Katy Perry.
The pre-presentation entertainment: The aforementioned Hip-Hop Mickey Pied Pipering, "Sketch Artists," an autograph table for sub-Selena Gomez Disney stars from a show called Lab Rats (mainly male and thus not haunted by the patina of impending doom).
Key phrase: "Throw your hands in the air, it's a beautiful party tonight, Disney-style!" –Radio Disney deejay, to assembled children.
Theme of actual presentation to ad reps: "Into the Future."
Performance: The stars of upcoming original movie Let It Shine, singing a hip-hop-inflected "This Little Light of Mine" remix.
Speaker: Gary Marsh, Chief Creative Officer.
Spurious claim: Let It Shine is based on the story of Cyrano de Bergerac, told in "the poetry of today, which is rap music and hip-hop."
Spin: Jake and the Never Land Pirates is #1 among boys ages 2-5.
A look ahead: The launch of a 24-hour "Disney Junior" channel, animated series based on Spider-Man and Tron on Disney XD.
And in development down the road… TV series called Zombies and Cheerleaders and Dog With a Blog.