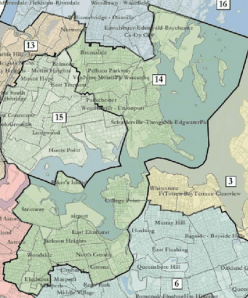 Earlier today, the courts dropped a small bombshell on New York's Congressional delegation, releasing a "draft" map for the new set of districts. But what does that mean, and what happens next?
U.S. Magistrate Roanne Mann has given a deadline at 9 a.m. tomorrow for any parties to submit comments. She then has until Monday to submit her plan to a three-judge panel. That panel will then hold a hearing for the parties on March 15th and subsequently order a plan into effect.
David Nir, an attorney who now heads the left-leaning Daily Kos Elections blog that closely monitors redistricting developments across the country, said he expected the three-judge panel would adopt the proposed map wholesale.
"In all likelihood, I'd expect the three-judge panel to adopt the magistrate's final map with few if any changes," he told The Politicker. "Given the amount of work the magistrate has put into drafting these maps, and her close familiarity with the new lines, I'd be surprised if the three-judge panel chose to second-guess her."
The main obstacle that could divert this plan from being enacted is the Legislature suddenly coming together to pass their own map before the court's process is finished, possibly with a signature on the plan from Governor Andrew Cuomo that effects their alternative redistricting plan into law.
However, a redistricting expert mused to The Politicker that there might not be enough panic in New York State's Congressional delegation to push Albany to overcome their differences.
"It appears that more members of the delegation either can live with this plan, or are not at the point of demanding change through a deal with Albany," he said.
Indeed, a couple Representatives in Long Island have seen their districts upended, but they generally all have landing zones. Only GOP Congressman Bob Turner, who is half-way into his first term, is left with no winnable district to run for reelection in whatsoever. The only other district eliminated by the court's map belongs to a retiring Democrat, Congressman Maurice Hinchey. Thus the pain is divided equally between the two parties, further mitigating the need for emergency legislative action.
The leader of the Democrats in the State Assembly, Speaker Shelly Silver, didn't even seem too upset with the plan, calling the plan a "template" for their own processes. However, he did indicate his interest in getting a plan passed before the courts finish their intervention, something that could still very well happen, although with a rapidly diminishing window of time.
Regardless of where the lines settle, it seems inevitable they'll settle soon. At the Congressional level at least, the intense electoral chaos may finally be at an end on March 15th.