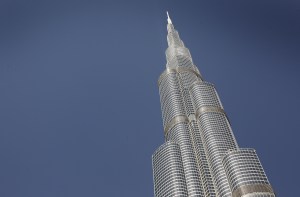 Dubai will move ahead with two cultural projects that were announced in 2008, but put on hold in the wake of the global economic collapse of that year, which hit fast-growing Dubai especially hard. According to a report by the AFP, officials recently said that the city will proceed on its plans for a modern art museum and an opera house.
This news comes to us from an aggregation post on The New York Times website, which states:
The complex is to be located near Burj Khalifa, the world's tallest tower. Although no architect has been named, The Dubai Modern Art Museum & Opera House District "aims to further strengthen UAE's emerging role as the cultural hub of the region,'' a statement said.
Work is expected to begin soon. Yesterday, the New York-based Human Rights Watch reported that there are "protection gaps" for workers at similar projects in the United Arab Emirates, among them branches of the Louvre and the Guggenheim.