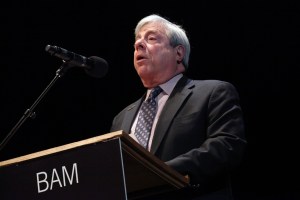 Possibly confirming rumors that Brooklyn Borough President Marty Markowitz is thinking about challenging Congresswoman Yvette Clarke, Crain's Insider reported today, "Sources close to Borough President Marty Markowitz confirm he's mulling a run for Congress," against her.
Update: City & State reports although sources close to Mr. Markowitz admit he had "strongly considered" the race, he will not ultimately be taking the plunge.
As both Crain's and other political observers have noted, Ms. Clarke's district absorbed substantial swaths of southern Brooklyn in redistricting, which, with their high Jewish population, would be very friendly territory to Mr. Markowitz's hypothetical campaign.
"Marty would win Orthodox vote. Yvette Clarke's record on Israel is abysmal," Councilman David Greenfield tweeted last night, adding, "I say this without hesitation: Marty Markowitz is the single most popular elected official in all of Brooklyn. #EverybodyLovesMarty."
Because Ms. Clarke represents a majority-black district and Mr. Markowitz is white, he would have to be prepared for strong charges if he were to pull the trigger for such a campaign. Crain's reported, "A source close to Clarke's office said Markowitz could catch heat for challenging the black congresswoman in a predominantly black district protected by the Voting Rights Act."
Then-Councilman David Yassky caught a lot of such heat during his own run against Ms. Clarke in 2006, when the seat was open. The departing Congressman, Major Owens, called Mr. Yassky a "colonizer" while Al Sharpton called him "greedy."
However, Mr. Markowitz, who represented a majority-Caribbean and African-American district in the State Senate before becoming Borough President, could be comfortable with the situation.
Attorney Sylvia Kinard is also running against Ms. Clarke.