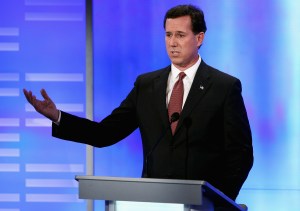 Rick Santorum continued to poke holes in Mitt Romney's aura of inevitability by following up his victory in the Alabama primary with a win in the Mississippi primary tonight. Though Mr. Romney still has a large lead in the overall delegate count, a win tonight would have gone a long way toward cementing his status as the clear frontrunner. Mr. Santorum's wins in more conservative states are prolonging the race for the Republican nomination and fueling the perception Mr. Romney has issues connecting with important elements of the Republican base. Despite his losses in the South, Mr. Romney is expected to win tonight's caucuses in American Samoa and Hawaii, though those results won't be official until much later due to the time difference. 
As of this writing, Mr. Romney is in third place behind Mr. Santorum and Newt Gingrich in both Alabama and Mississippi with over 90 percent of precincts reporting. Despite his second place finishes, the night was particularly bad for Mr. Gingrich, who was relying on victories in the Deep South to help him fuel a "last stand" on the campaign trail.
According to The Associated Press, again as of this writing, Mr. Santorum is expected to earn 21 delegates from his wins in Alabama and Mississippi compared to 17 for Mr. Romney and 16 for Mr. Gingrich. Seventeen delegates are at stake in Hawaii and six will be allocated in American Samoa. According to The New York Times Mr. Romney currently has 472 delegates and Mr. Santorum has 244 out of the 1,144 needed to secure the nomination.