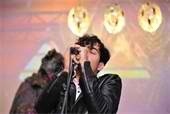 Last night, the Museum of Modern Art held a post-VIP Armory show with a production all it's own: a charity benefit for this week's biggest art fair, culminating in a performance by hipster rockers Neon Indian. There was only one thing missing…
"Have you seen any artists?" We asked around, while munching on popcorn and strips of chewy bacon–yes, bacon– provided at the open bars available on the first two levels of the museum. The biggest name of note seemed to be the man most journos were scared to talk to: MoMa and MoMa PS1 director Klaus Biesenbach. The silver-haired gentleman stayed close to a bevy of MoMa PS1 directors all night, furrowing his brow in distaste or smiling widely at each new intruder trying to speak to him, although his generosity seemed random. Nobodies got smiles, employees frowns, and journalists…well, a couple walked away shaken.
"He's equal parts terrifying and weird," a source confided in us while trying to grab eye contact. We decided to stay more low-key, chatting up artist collector April Hurr of sparkplugPR about her gorgeous, self-made jewelry. (Okay, we were actually trying to curry favor in order to snag an invite to one of her legendary artist dinners…but she did have a great necklace!)
Nearby, Ralph Lauren's rising baby-faced P.R. star Marc Troisi, stood, animatedly talking to a gaggle of gay men.
The general consensus from all groups that the city was diluted with too many other events–Scope, private showings, Jana Bullock's art dinner–to sweep in the big names.
At least the band started relatively on time. Near the front of the stage we ran into Valentine Uhovski.
"I just flew Neon Indian out to Moscow for a launch party," said the American editor of Interview Russia. "They were so much fun to work with."
Also in attendance were Scene contributor Kristian Laliberte, Peter Eleey, Sofia Kay, and party promoter Seva Granik, who told us he did "nothing for a living," but "lived a very nice life…like I was rich." We know!