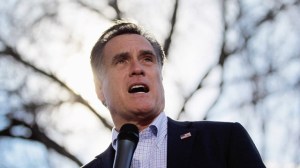 Mitt Romney said he'd "get rid" of Planned Parenthood during a campaign stop in Kirkwood, Missouri today. Mr. Romney made his remarks during an interview with local news station KSDK when he was suggesting programs he would cut as part of his plan to reduce the debt.
"The test is pretty simple. Is the program so critical, it's worth borrowing money from China to pay for it? And on that basis of course you get rid of Obamacare, that's the easy one. Planned Parenthood, we're going to get rid of that. The subsidy for Amtrak, I'd eliminate that. The National Endowment for the Arts, the National Endowment for the Humanities," Mr. Romney said.
Planned Parenthood has increasingly been in the spotlight since last month when the Susan G. Komen foundation threatened to stop giving the sexual and reproductive health organization grants for breast cancer screenings. Komen later reversed that decision after widespread public outcry.
Though Mr. Romney supported Planned Parenthood during his time in Massachusetts, on the campaign trail this year, he has said the government should cut taxpayer funding from the organization.
Watch a video of Mr. Romney's KSDK interview here.
Update (11:03 p.m.): President Barack Obama's deputy campaign manager, Stephanie Cutter, released a statement responding to Mr. Romney's remarks.