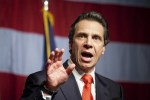 Laura Nahmias chronicled last night.
Conservative Democrat Chuck Swanick filed against Mark Grisanti.
Joe Carvin filed against Kirsten Gillibrand.
Don't expect the legislative primary date to change.
Video of Mike Gianaris telling LATFOR to "shove it."
Diane Savino was incredibly disappointed by the pension vote this morning.
Deals are often done in the dark in Albany.
Governor Cuomo defended the practice.
Despite trashing the court's Congressional map in the press, he had no objection to it.
The Senate Democrats sued over the 63rd seat.
Dean Skelos told them to grow up.
Citizens Union continued to have Cuomo's back.
Ed Towns continued making the case for seniority.
David Storobin and Lew Fidler interviewed with the Jewish Voice.
The publication endorsed Storobin.
Louis Slaughter will run wherever.
The Steve Katz vs. Greg Ball race won't stop laughing.
Skelos let the MTA know he's cutting their funding to cut the deficit.
Here's the vote tally for pension reform.
More troubles with the city's Department of Education.
The Working Families Party made a pitch to G-train riders.
Will the Democratic Party punt on marriage?
The Wall Street Journal stole The New York Times' social media editor.
The Obama administration hasn't heard the last of Ed Koch.
Nydia Velázquez told Mitt Romney to cool it on the Sonia Sotomayor criticism.
On the presidential race:
Rick Santorum's Super PAC kept the heat on Romney.
Was his English-for-Puerto Rico comment actually a gaffe?
He's overperforming in his poll numbers.
Moderates give Romney a boost.
Romney mended fences with Fox and Friends.
California could be especially decisive this time around.