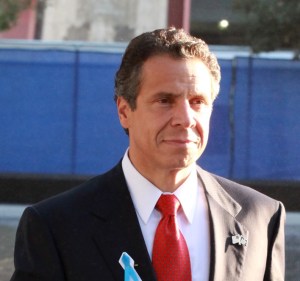 A major legislative deal is imminent.
What Governor Cuomo is about to do on redistricting.
Steve Katz formally filed for the State Senate against Greg Ball.
Ball and Felix Ortiz pushed for identification cards for police officers.
David Storobin and Lew Fidler said something nice about each other.
The Queens GOP isn't behind their hometown hero, Bob Turner.
George Maragos called the Turner situation "very strange."
The Working Families Party piled on the Rush Limbaugh-Turner thing.
The Albany GOP is rethinking its support of Maragos.
An Orthodox community leader is furious at the Congressional redistricting map.
Dov Hikind and David Greenfield debated redistricting last Saturday night.
Citizens Union's Dick Dadey has his critics.
Redistricting headline: "Poor, helpless Andrew Cuomo."
Common Cause suggested Governor Cuomo is exchanging redistricting or something else.
Michael Grimm received his third endorsement this morning.
And will be endorsed by Staten Island GOP tonight.
And called the press coverage of his trials "a hatchet job."
Pedro Espada's trial moves forward.
Jumaane Williams and Peter Vallone debated the NYPD's stop-and-frisk policy.
Gambling tribes are suspicious of Cuomo's casino push.
Dov Hikind's official blog posted an item entitled, "All Roads Lead to… Dov Hikind?"
An illustrated guide to the FOIL process.
On the presidential race:
Former Senator Al D'Amato endorsed Romney.
Five lessons from last night's elections.
Mitt Romney's plan is to keep his team and focus more on President Obama.
He's not surrendering Pennsylvania.
Steve Kornacki connected Obama's NCAA prediction to his presidency.