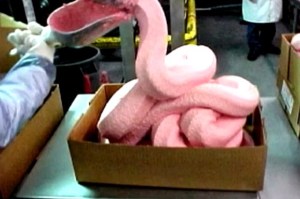 Manhattan Borough President Scott Stringer, a likely candidate for Mayor in 2013, held a press conference earlier today to call on the New York City Department of Education to "immediately remove ammonia treated meat byproducts," otherwise known as "pink slime."
Pink slime, according to Mr. Stringer's office, is a filler food made from fatty pieces of leftover beef, which are then subjected to extreme heat and treated with ammonia hydroxide to kill deadly bacteria.
"When New York City lags behind McDonalds and Taco Bell in their standards for food quality, you know something's awry," Mr. Stringer said in a statement. "The Department of Education must end this repellant practice now—and the first thing they can do is to pull it from the shelves today"
"I cannot think of a more important issue than the health of our 1.1 million public school students, and that's why I'm calling on DOE to act today," he added.
Mr. Stringer furthermore wrote a letter to Chancellor Dennis Walcott calling for an end to the practice, which you can view below: