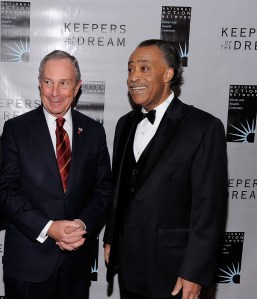 As Albany moves forward with its budget negotiations, Mayor Michael Bloomberg and Reverend Al Sharpton made sure to tout a recent agreement to reform juvenile detention centers. The changes will allow New York City to place young offenders in facilities closer to the city, and it appears likely this reform will ultimately come to pass.
"For too long, too many of our City's young people have been shunted off upstate – hundreds of miles from family, school and community and far from the support they need to get back on course," Mr. Bloomberg and Mr. Sharpton said in a statement this afternoon. "Today's budget agreement includes a landmark overhaul of our juvenile justice system, paving the way for young people in the system to receive services close to their families and more easily transition back into their communities and productive lives."
Mr. Bloomberg had personally lobbied Mr. Cuomo to include the initiative, entitled "Close to Home,"  in the budget, and Mr. Cuomo, who once declared "an incarceration program is not an employment program" for Upstate communities, seemed more than inclined to make it one of his priorities.
And, accordingly, Mr. Sharpton and Mr. Bloomberg applauded Mr. Cuomo for his efforts.
"We are grateful to Governor Cuomo for making the 'Close to Home' initiative a top priority for his administration. Building on the City's legacy of juvenile justice reform – reducing the use of detention and placement, increasing community-based alternatives and lowering recidivism rates, all the while making our City even safer," they said.