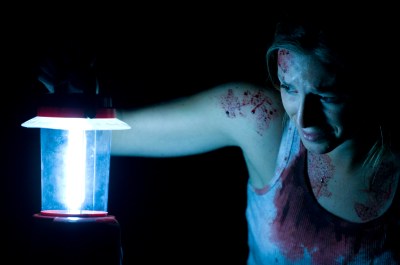 Look hard and you might find a few thrills in a potboiler called Silent House, but I was fighting too hard to stay awake to pay much attention. This mess, a remake of a Uruguayan film directed by Gustavo Hernández, was concocted by Chris Kentis and Laura Lau, the duo who made the electrifying Open Water, one of the most original and genuinely pulse-pounding movies ever. With only two stranded divers and a shark-filled ocean of darkness, it was a tapestry of terror that has given me nightmares to this day. Silent House is to Open Water what a leaky faucet is to Lake Michigan.
Fresh from her surprise triumph in Martha Marcy May Marlene, Elizabeth Olsen plays a skittish lass named Sarah who accompanies her father (Adam Trese) and her Uncle Peter (Eric Sheffer Stevens) to a dark, deserted summer house on the edge of a lake where the two boys played when they were young. Her job: to pack up the decaying contents of the old abandoned family home in the middle of the woods for resale. Mold cakes the walls. Cell phones don't work. All they have to light the darkness is lantern-shape flashlights. Then the spooky noises begin. The doors lock, and there's no way out. The first of many challenges to logic: why do they begin packing up the boxes in the dark? Why don't they come back the next day, when the sun is shining and they can see what they're doing? The questions are just beginning.
For the first half hour of a movie so slow it seems to be fueled by liquid Valium, there are only the sounds—footsteps, creaking door hinges, punctuated by Ms. Olsen's screams. Like The Haunting, the goose bumps come from what is heard and implied—not what is shown or described. The father keeps disappearing, ending up in a pool of blood. The uncle runs away, only to return and get knocked out with a brain concussion. The claustrophobic setting—dark rooms littered with clutter—has a deleterious effect on Ms. Olsen that is the only thing in the movie that makes any sense. Shot mostly in annoying close-ups, the blurry camerawork from drunken hand-held video cams doesn't add chills. It only causes night blindness. Eventually, the only light is from the flash bulbs in a Polaroid camera. The three characters (and one hallucination) in Silent House lack even the most fundamental pretense to characterization, but it is clear that the two men are up to no good and Ms. Olsen is more (or less) than what she appears to be. Who is she and where has she been for so long that her father and uncle don't seem to know her? No spoilers, but she seems mad from the start, and it's apparent that she's an expert with a shotgun for reasons that have nothing to do with finishing school.
The movie's one claim to self-importance is its claim to be shot in real time, in one take, but you couldn't prove it to me. Mainly, it's another tour de force performance by Ms. Olsen with a maximum display of eye-rolling hysteria, a bare minimum of dialogue and no visible help from a director with any ability to prolong suspense. You can't condemn Silent House for even being contrived. A contrived plot heads in different directions, no matter how obvious. Like a turtle with a missing toe, this one is incapable of going anywhere, so it never moves at all.
rreed@observer.com
SILENT HOUSE
Running Time 85 minutes
Written by Gustavo Hernández (based on the film by) and Laura Lau (screenplay)
Directed by Chris Kentis and Laura Lau
Starring Elizabeth Olsen, Adam Trese and Eric Sheffer Stevens