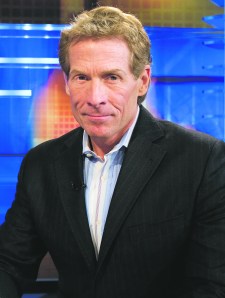 On a recent Wednesday evening, ESPN commentator Skip Bayless sat in a booth in the bar at the Midtown Hilton nursing a Diet Coke and quietly watching two basketball games.
Yes, quietly.
"By nature, I am quiet off the air," he said. "My mom was real loud and that made me speak only when spoken to. But even as a child, if you challenged me, you would get both barrels."
Mr. Bayless, 60, wore a navy-blue sweatshirt, matching cargo sweatpants and white-and-navy Fila sneakers. "You haven't challenged me," he pointed out. "I've agreed with your opinions."
Mr. Bayless and The Observer found a surprising amount of common ground during our interview: The Atlanta Hawks are perennially overrated; the 2002-03 San Antonio Spurs were the best team in the history of that franchise; and LeBron James doesn't deserve the MVP award because his team is too good.
Agreeing with Mr. Bayless is a disorienting experience. He argues about sports for a living. For two hours every weekday on ESPN's First Take, the man nicknamed "The Diabolical Hater" debates a rotating cast of journalists, athletes and even rappers. He is the most polarizing figure in sports journalism, a real shit-stirrer—lobbing grenades and hurling insults without a second thought, kind of like how Kobe Bryant keeps on shooting.
Despite the show's popularity and, yesterday, his getting an Emmy nomination for Outstanding Sports Personality, not everyone is a fan. Charles Barkley has said he wants to kill Mr. Bayless. Baltimore Ravens linebacker Terrell Suggs called him a douche bag. The sports website Deadspin labeled him "a hockey goon," whose "sole job is to go out and start a fight with someone." Fox Sports columnist Jason Whitlock compared him to Glenn Beck.
"Do I think he intends to be polarizing? Of course I do," Sports Illustrated writer Richard Deitsch told The Observer, labeling Mr. Bayless a "self-proclaimed television truth-teller simply pushing his own brand of dime-store demagoguery.
"People tell me he's a nice guy off the air," he added. "If so, that's even more disappointing, because few in sports television come off more loathsome on the screen."
Even his good friends tend to hedge their praise. "Skip Bayless has been a journalist for over 30 years—that doesn't mean he is well-liked," First Take commentator Stephen A. Smith noted. "I'm one of his critics, and I'm one of his best friends. But even in the process of disagreeing with him, I will vouch for him as a man. His character is impeccable. He's just crazy in terms of some of the things he thinks."
SKIP BAYLESS OWES MUCH of his current success to three things that happened in 2011. First, in June, LeBron James, who had been his favorite punching bag for years, flopped in the NBA Finals. Gleaming with Schadenfreude, Bayless amped up the anti-LeBron rhetoric, dubbing him "LeBrick" and "The Frozen One."
Then in August, producer Jamie Horowitz took the helm of First Take and changed the format—once a confusing mishmash of debate, SportsCenter highlights and Good Morning America-like vignettes—to two hours of live debate centered around Mr. Bayless: Crossfire for jocks. "I looked at research, and the brand that resonated most for our fans was debate," Mr. Horowitz said.
And then there was Tim Tebow. As the ultrareligious quarterback miraculously led the Denver Broncos to the playoffs following a string of improbable comeback victories, Mr. Bayless, also a devout Christian, developed a pronounced man crush.
First Take's numbers are up 33 percent from last year and the show's top 10-best-rated telecasts have all aired since August.
Although the program's debates can sometimes come off as ginned-up, Mr. Horowitz maintained that the opinions are all genuine. "If everyone agrees on a story, we don't talk about it," he said.
"It's not an act," Mr. Bayless insisted. "It's not a character. It's the real me. I'm not a shock jock. I never ambush anybody. I just speak my mind and my heart and my soul."
Mr. Bayless and his First Take colleagues owe some of their success to social media. With over 525,000 Twitter followers, Mr. Bayless is a prolific tweeter, and clever videos such as the Tebow anthem "All He Does Is Win" have gone viral. More important, however, has been the program's effort to turn sports into a never-ending drama, in which every missed free throw or clutch touchdown catch adds a new wrinkle to the narrative.
On the morning after our interview, Mr. Bayless flew to Orlando to tape an NBA All-Star Weekend edition of First Take. Feelers went out to LeBron James as a possible guest, but he declined.
Still, the gambit of luring athletes to take on Mr. Bayless in person has worked in the past. New England Patriots wide receiver Chad Ochocinco made an appearance in 2009, and in September, Miami Heat power forward Chris Bosh, the recipient of relentless fouls from Mr. Bayless, showed up to defend himself. "Everybody is aware of their critics, and he is on ESPN, so if he says a certain thing, guys know about it," Mr. Bosh told The Observer.
Mr. Bayless said Mr. Bosh's willingness to appear on the show earned his respect, and he even suggested the war of words was good for the seven-time NBA All-Star. "I think it helped his on-court aura a bit," Mr. Bayless said. "It made him more confident."
Surprisingly,  Mr. Bosh agreed with his one-time tormentor. "I think it boosted my confidence to know I went in there and didn't lose my temper," he said. "I tried to have fun with it. At the end of the day, that show is entertainment."