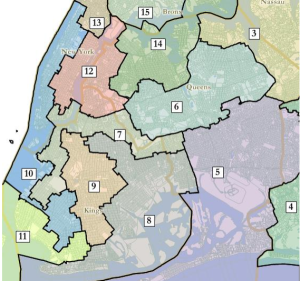 The special master involved in redrawing New York's Congressional districts released the court's draft map this morning, and certainly not every incumbent is going to be pleased. And, unlike the proposals from the State Assembly and Senate majorities, this draft will likely contain far more legal weight as the process moves forward over the next week.
At first glance, the map appears to eliminate Congressman Bob Turner's Queens-based seat and Upstate Congressman Maurice Hinchey's one as well. The map additionally eliminates a Nassau County district, dismantling Rep. Gary Ackerman's the most.
A new plurality-Asian district is created in Queens, which Mr. Ackerman may choose to run for. However, Congressman Joe Crowley, whose district was converted into a 48% Latino seat with more of the Bronx, might also prefer to run for that new seat as well, should the map hold.
Notably, veteran Congressman Charlie Rangel's district shifts out of Manhattan and into The Bronx to become not only become majority-Latino, but also more heavily African-American. In what could throw a wrinkle in his competitive primary, Congressman Ed Towns' Brooklyn district pulls out of northern Brooklyn to absorb Russian and Irish neighborhoods from Mr. Turner's old district.
Capitol Confidential has a good breakdown of how the maps affect the Capitol Region and Capital Tonight has some analysis of how they affect the rest of Upstate New York.
Albany may still be able to put the brakes on this court-drawn map if they can pass their own proposal through the State Assembly and State Senate and get it signed by Governor Andrew Cuomo, but they're rapidly running out of time.
View the maps for yourself below, or click here for a more detailed look. Click here to view the demographics breakdown.