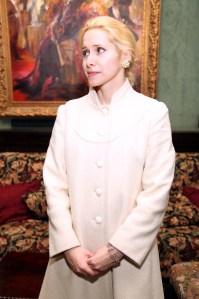 National Council Grand Finals Concert (Metropolitan Opera, March 18)
The National Council Auditions are classical music's best reality show—not least because the judges have real power, the contestants have real talent, and the winners get a real prize. And not just some cash and a Pepsi commercial—we're talking about getting discovered and fostered by the Met. Former auditionees at this annual aria-off include Renée Fleming, Eric Owens, and Deborah Voigt. This year's finalists will be accompanied by the  Met's orchestra, then toasted with Champagne, though they likely prefer Throat Coat tea.
Nellie McKay's "Silent Spring: It's Not Nice To Fool Mother Nature" (Feinstein's at Loews Regency, Begins March 20)
With her splashy debut double-album, 2004's Get Away From Me, Nellie McKay declared herself  America's top theater-kid—brash, big-voiced, and unafraid to be obnoxious. She never hit superstardom, likely because she narrowly missed the music-blog-dominated web and the Glee era, but she's been building an interestingly multifaceted career that includes Times Book Review scribblings, Brecht roles onstage and animal-rights activism (she's used that big voice to protest primate testing and carriage horses). She comes to Feinstein's to bring across her rich vocalization and a personality that is petulant and righteous in equal measures.
Birth of Electronic Music (Miller Theatre, April 10)
Columbia University's Miller Theatre continues its series of free "pop-up concerts" with a program that expands the music academy's purview into the present day. Parisian conductor Jean-Baptiste Barrière, formerly of the IRCAM (Institut de Recherche et Coordination Acoustique/Musique) at Paris's Centre Pompidou, has put together a program of clicks, buzzes, and whirrs that will shock anyone for whom Philip Glass is a risky proposition—and likely sound at least a little familiar to anyone who's followed the ever-more-electronic trends in popular music. What better way to usher in the age of Skrillex and his celebrity-DJ ilk than to welcome computerized music into the hallowed halls of academia? This time next year, we'll be practicing to get to Carnegie HAL.
Billy Budd (Metropolitan Opera, Begins May 4)
How do you get even more homoeroticism into the performing arts? Benjamin Britten cracked the code in the late 1940s by making an opera of Herman Melville's other sailing epic. The Met has hung a "No Sopranos Allowed" sign on the clubhouse for the night as they celebrate the strength and charisma of naval officers. This stalwart crew includes the opera world's hunky top Gunn, the swoon-worthy Nathan Gunn, as Billy himself.
Siegfried (Metropolitan Opera, April 21)
The Met's Ring cycle nears its suitably epic conclusion with Deborah Voigt singing Brünnhilde in a five-hour, thirty-minute aria-thon. Jay Hunter Morris, who's heretofore spent his career in the understudy's sweat-soaked chair, is playing Siegfried. After leaping to the production's rescue last summer at the San Francisco Opera. He has at last, and deservedly, hit the big time. And now he's in the hot seat, as this portion of the cycle focuses on Siegfried's journey through the enchanted forest. Look for stage designer Robert Lepage, known for his innovative video images and rotating elements, to pull out all the stops for this one.
Lisa Batiashvili Plays Mozart (New York Philharmonic, April 26)
The nation of Georgia's top export continues to justify her ticket prices and her place in the stratosphere of the musical hierarchy with a three-night engagement at Carnegie Hall—one she earned through practice (soloist at the world premiere of a Magnus Lindberg violin concerto in 2006), practice (playing the 1709 Engleman Stradivarius, on loan from the Nippon Music Foundation), and more practice (touring as part of a super-chamber quartet and performing festivals from Tanglewood to Edinburgh). For Carnegie Hall, Ms. Batiashvili has been cut loose from her quartet and is able to debut a Marc Neikrug concerto for orchestra, and lead Alan Gilbert's orchestra in compositions by Debussy, Mozart, and Berlioz.
The Makropulos Case (Metropolitan Opera, April 27)
Janacek's penultimate opera makes a big splash at the Met with Finnish soprano Karita Mattila singing the part of Emilia. Within the opera, Emilia is known for being a talented singer—both allowing for some suspension of disbelief as to why she's singing all the time and raising the bar for how good her singing must be relative to the rest of the cast. Happily, Ms. Mattila is up to the task, thanks to a long career during which she's appeared regularly the world over, playing parts ranging from Mozart's Donna Elvira to Tchaikovsky's Tatyana to Strauss's Salome.
Tchaikovsky's Fourth and a Lindberg World Premiere (New York Philharmonic, May 3)
If you're lucky enough to have a world-renowned composer as your composer-in-residence, you make him compose, and the fruits of Magnus Lindberg's work for the New York Philharmonic will at last have their debut. Mr. Lindberg's Piano Concerto No. 2—following his 1990-94 first concerto—features Yefim Bronfman as the lucky soloist, in a set also featuring Dvorak's Carnival Overture and Tchaikovsky's Symphony No. 4, his work devoted to fate and his wealthy patroness. The times in which the wealthy would individually commission works of musical art for their own delectation seem so far away; now it's left to institutions.
Orpheus (City Opera, Begins May 12)
Georg Philipp Telemann's Orpheus, unlike traditional versions of the Underworld myth, is narrated from the perspective of the Orasia, the love-besotted Queen of Thrace who dooms Orpheus and his lissome bride. It's like Star Wars told from a viewpoint sympathetic to Darth Vader, and it's utterly of a piece with the innovations for which City Opera is known. Fear not, justice-hungry opera-goers: Orasia gets hers in the end, but not until after Orpheus's ever-wrenching descent into hell in failed pursuit of his bride. If you go to City Opera this season, go for the opera that subverts convention.
Lea Salonga: The Journey Continues … (May 4)
The Tony-winning Miss Saigon star has gone through a couple more career reinventions— 20-somethings may know her as a pre-Pixar Disney princess, lending her voice to Mulan, and cabaret fans can discover her singing Broadway and standards for one night only, as well as sharing personal anecdotes from her lengthy career. She was a prodigy, recording her debut album, Small Voice, at age 10, and she was named a "Disney Legend" by the Walt Disney company last year. She also opened for Menudo on their mid-1980s world tour. Now we just need to think of the standards that match such a colorful life …