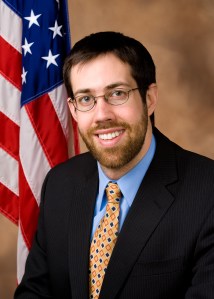 This afternoon, the State Senate Corporations, Authorities, and Commissions Committee voted to prevent the Corporate Political Accountability to Shareholders Act from moving out of committee. The Act, which was sponsored by Senator Daniel Squadron, would have forced businesses to disclose political donations by requiring shareholder approval and eliminated the secrecy surrounding super PACs in this state. Though the bill lost its vote today Mr. Squadron is circulating a petition that will bring the legislation to a vote on the Senate floor if it is signed by 38 senators.
"Today, Senate Republicans chose corporations over people and prevented my bill from moving out of committee. But our fight to counter Citizens United, rein in unchecked corporate political influence and bring transparency to our politics isn't over: I'm petitioning to bring the bill to a vote on the Senate floor," Mr. Squadron wrote in a note on his Facebook page.
The Corporate Political Accountability to Shareholders Act would require "that corporate contributions to a political candidate or party committee or in support or opposition to a candidate or ballot referendum be approved by a majority of shareholders." Mr. Squadron believes his legislation could serve as a model for other states to combat corporate influence on the political process. In a statement released today, Mr. Squadron encouraged his fellow senators to sign the petition.
"By reining in unchecked political influence and bringing desperately-needed transparency to the process, our bill would be a key step toward countering the flood of corporate influence that washes away the voice of regular people. I urge my colleagues to stand up for people over corporations in our politics and join the effort to move this bill to the floor," he said.