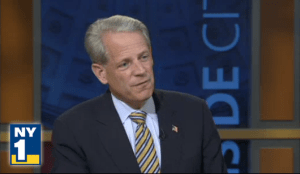 New York Congressman Steve Israel, who heads up the House Democrats' campaign efforts, made an interesting pitch to NY1's Errol Louis on Inside City Hall last Friday. He argued the most New York is now in play with the judge's new congressional redistricting plan.
"Right in New York, as a result of the map the courts have approved, we have races all over the state that will be competitive," he said, before ticking down a laundry list of newly competitive seats.
"Congressman Gibson now has a district that is much more Democratic, [with] the map on Long Island, Congressman King goes from safe Republican seat to a 49.5% Democratic seat," he continued. "Congressman Reed has a more Democratic district. Congresswoman Buerkle, in the Syracuse area, is so out of touch … with her district that I believe we're going to pick that one up."
Mr. Israel is correct that a number of Republicans have more competitive districts, but he may need some luck and extraordinary candidates to turn the entire state blue, although it isn't completely out of question. For example, Nassau District Attorney Kathleen Rice might need to enter the race against veteran GOP  Congressman Pete King to truly make that race competitive.
(Of course, every single House seat in New York State except Mr. King's has been held by a Democratic incumbent within the last two election cycles, so perhaps Democratic competitiveness across the state isn't especially new.)
On the flip side of the coin, Republicans have their own reasons to be optimistic with redistricting. Democratic Congresswomen Louise Slaughter, Kathy Hochul, and Nita Lowey have seen potentially strong Republican challengers mull races against them in recent days.