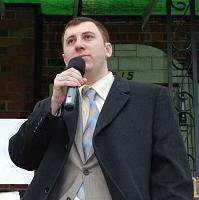 Republican State Senate candidate David Storobin is holding onto a 143 vote lead over his Democratic opponent, Lew Fidler, sources tell The Politicker. This is the exact same total as the Board of Elections had last night, and the remaining machines counted today all contained zero votes.
Today's finished count only reflects the review of the voting machine memory sticks, and next week, the Board of Elections will still recount the paper ballots and the remaining absentee and provisional ballots.
This is a relatively optimistic number for Mr. Fidler, as it is within the realm of what he could obtain when the 757 absentee ballots are ultimately counted. Additionally, some absentee ballots initially ruled invalid could be contested and ruled valid again. Still, Mr. Storobin has a slight edge in the race as of now, and his camp is likely optimistic as well.
Provisional ballots, which usually come from non-registered voters or voters from outside of the district, are usually invalidated and unlikely to significantly alter the vote.
However, the paper ballot recount is likely to shift the numbers some if other recounts around the country are any indication.
This could easily end up being an even more close race when all is said and done.