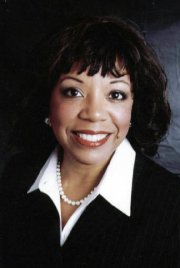 Sylvia Kinard, an attorney and the second wife of the Democrat's 2009 mayoral nominee Bill Thompson, is pushing forward with her efforts to unseat Central Brooklyn Congresswoman Yvette Clarke. Two days ago, she registered a committee with the Federal Elections Commission that will allow her to formally raise and spend money for her campaign.
She also has the beginning stages of a campaign website set up, and from the biography on the site, it seems she will emphasize her business and legal experience in the campaign:
"Rev. Sylvia Gail Kinard, Esq. is a well-respected attorney, entrepreneur and community leader. Her demeanor is one of confidence and grace. She has distinguished herself as an expert in faith based community development, as an advocate for the formerly incarcerated and for expanding small business opportunities for women and minorities."
It's uncertain how strong Ms. Kinard's candidacy at this point. However, her campaign, which reportedly will make a pitch to the district's Jewish residents, may find some optimism in the court's initial redistricting map. Under the proposed plan, Ms. Clarke's district will contain more Jewish neighborhoods in southern Brooklyn and 30% of the residents in her new district will have never voted for Ms. Clarke before.
For her part, Ms. Kinard is likely to be criticized for her Republican past while serving in former Governor George Pataki's administration.
The primary date is June 26th.