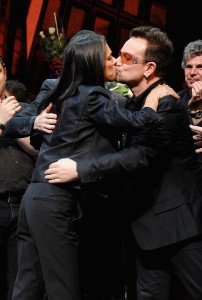 Recently, the public got its hands on the 35-page complaint that Julie Taymor and her company LOH Inc. filed in response to the countersuit launched by the producers of Spider-Man: Turn Off the Dark.
To catch up: Ms. Taymor sued the producers of the show for using her material after firing her, won a ton of money, but is still suing them for more money. The defendants in the case — 8 Legged Productions, LLC, Hello Entertainment LLC, Goodbye Entertainment LLC, Michael Cohl, Glen Berger, Jeremiah Harris, and Savior Productions LLC — include the producers who recently launched the countersuit, claiming that Ms. Taymor's detrimental influence on the production hurt the show and cost them money. Also, her co-author for the book, Glen Berger. Back and forth, forever and ever.
While we're waiting for this mess to get untangled (spider web pun!) in court, Ms. Taymor's complaint contains enough juicy dirt on show creator Bono and his cohorts to keep us entertained for the rest of the week. Here are the 10 most soap opera moments from the document, so you don't have to slog through the paperwork yourself.

1. Julie Taymor is a genius, says co-author.
In a private e-mail correspondence, the book's co-author Glen Berger effusively gushed to Ms. Taymor about what an honor it was to work with such a brilliant auteur.
i've been meaning to point this out for a while, but today, as people could sense something alchemical was going on in how the story was working—it's—your directing and designing on this thing aside—your understanding of theatre has enabled you to
create a profoundly effective story. yeah, I wrote more of the words in the script, but the beat-to-beat narrative—that was totally your vision (I was your boy wonder) – and by figuring how to send the audience high, then plunging them low immediately after, then sending them high again, and on and on—well,anyway, just a few hundred hurdles to go, so I won't get into it…it seems to work on the audience on a physiological level—putting them in a state where they're wholly open—prepared to engage in the story on a deep deep emotional level…(Emphasis added) but just wanted to say what a gift, what a mind-cracking, heart-swelling gift it's been having these front-row tickets to you….
2. Mr. Berger later changed his mind and went behind her back to help develop the nefarious-sounding Plan X in an attempt to change the show to make it more coherent, which is bitchy but we're pretty sure is not illegal.
As the series of unforseen events unfolded, Berger and Tsypin apparently began privately to discuss a plan to re-write the Book of the Musical such that, among other things, the culmination of the current Act I—a dramatic fight scene between Spider-Man and the villain Green Goblin—would move to the end of Act II. Berger called this plan "Plan X."212.

Among other things, and unbeknownst to Taymor, Plan X appears to have been conceived as a way to avoid the technical challenges Tsypin and his team were having with staging the finale called for by the Book of the Musical co-authored by Taymor.
3. Bono, Mr. Kohl, and Mr. Berger all emailed each other about the problems with the show! Without CC'ing Ms. Taymor!
On December 29, 2010, for example, Berger sent an e-mail to Tsypin stating that it was "best not to mention anything to J." Tsypin responded: "I won't say a word."

Upon information and belief, Berger and Tsypin, without Taymor's knowledge,then reached out secretly to Cohl, Harris, Bono, and Edge in an effort to further their clandestine plan. To this end, Berger and Tsypin apparently sent e-mails to Cohl and Harris describing their plan and imploring the producers to "please don't let JT know I'm sending this.
4. Bono et. all were going to come clean to the director about the changes in a meeting set in a hotel room at night (where most meetings take place), only to show up drunk with super models. Come on, Bono was just trying to lighten the mood!
Upon information and belief, on January 13, 2011, Cohl, Berger, and Bono met with Taymor in the VIP room of the Foxwoods Theater. Unbeknownst to Taymor, Berger apparently understood that the purpose of the meeting was to finally disclose Plan X to Taymor. As Berger recounted in a later e-mail, however, "that meeting never happened":

[t]he meeting was postponed until 11 p.m., when Bono was going to show up –except he showed up in our room with Christy Turlington and a couple other supermodels, and he had already had a few beers, rendering him useless — so the producers postponed the meeting till the next afternoon–but that meeting never happened.
(More importantly, since when does a "few beers" render an Irishman useless? And Christy Turlington isn't just any old floozy…she probably lent some actual class to the proceedings.)
5. Apparently, Turn of the Dark actually got some great early reviews…but no one read them because they were too busy focusing on how cast members were being put in mortal danger.
On February 7, 2011, critics published pre-emptive reviews of the Musical five weeks before the then-scheduled opening night of March 15. While some of the reviews contained criticism of the show, those that praised it praised elements that had been conceived and implemented largely by Taymor: "As a stager . . . Taymor is bold, elegant, and eloquent";"The flying is thrilling, a full-tilt leap into the extraordinary"; "'Spider-Man' deftly spins substance and spectacle"; "The state-of-the-art visuals can be stunning"; "Taymor delivers"; "A visual feast."
6. And the stuff that wasn't even reviewed?? Even better.
By many accounts, the version of the Musical as it was being performed in late February 2011—which version was never reviewed by the press—had greatly improved since the version that had been reviewed by the press at the beginning of February 2011.247.

On February 18, 2011, for example, Glenn Orsher, Cohl's Executive Producer,sent an e-mail to Taymor stating: "Wow! What a great show!
7. Even after she was fired, the press was (apparently) still applauding Ms. Taymor, despite the producer's claims that the show was entirely revamped. (Though she's still listed as the author of Spider-Man's book.)
Rather Taymor's substantial creative contributions to the Musical, including her work as co-author of the Book, remain an integral part of the Musical and a substantial reason for its success. The myriad press reviews of the revised Musical that the producers have touted on the Musical's website promoting the show confirm this: "A fun, high-flying adventure"; "There's more flying than ever-And you can't help but feel a thrill as Spider-Man and the Goblin battle it out just a few dozen feet above your head!"; "it's a fantastic spectacle"; "Thrilling high-flying acrobatics"; "dazzling sequences unprecedented on Broadway!"; "It was one of the most dazzling theatrical experiences we have ever seen! And, most of that, we think, can be attributed to the bold and inspired work of Julie Taymor"; "[e]ssential elements of [the Original]

8. Ms. Taymor barely had time to eat dinner, that's how hard she was working!
From disclosed email correspondence between Ms. Taymor and Bono.
It is nine pm in NYC. I am just about to sit down to a home cooked meal. I have been at it on [Spider-Man] nonstop. Glen has as well. We are writing lyrics, lines of dialogue, changes in music–all in service to the ending, to clarity. We know what the story is, we understand the stakes–but we do not have the lyrics to support it. I would like to talk to you before midnight my time– after I eat– to go over the situation and beg for lyrics. We need you. It is not easy to change anything but now I think it is a matter of lyrical and musical changes — and perhaps cutting a scene or two from a second act.
9. Most incredibly: Julie Taymor spent seven years on Spider-Man and still couldn't get it to opening night.
In total denigration of Taymor's over seven years of work on the Musical and with obvious malice, defendants assert in paragraph 10 of their counterclaims that "[t]he show is a success despite Taymor, not because of her."
10. Spider-Man's ticket sales have not increased since the show opened and Ms. Taymor was fired.

The producers also have not created a more financially viable production than Taymor's original production. The first version of Spider-Man consistently ranked as the second- or third-highest grossing show on Broadway, despite the lack of promotion of the show to encourage ticket sales during the prolonged preview period. Its box office receipts were almost identical to the box office receipts that the revised version has earned since Taymor was dismissed from the production.
So basically: Julie Taymor did everything, Glen Berger is a jerk, and even though the show is entirely different now–scrapping entire elements and characters of the original and creating new content–Ms. Taymor should also be getting credit for this. (Except for the parts of the show which were a flop, in which case it was the fault of Bono being drunk.)
Also Spider-Man: Turn Off the Dark made a ton of money under Ms. Taymor's guidance, got rave reviews, everything was perfect, and nothing hurt. (Except for those internal injuries suffered by the show's actors.)