MoMA PS1 director Klaus Biesenbach has seen the German electronic music group Kraftwerk play live many times, but when asked to name his favorite performance he didn't hesitate. "In the [2009] Manchester International Festival, they played Tour de France in the velodrome," he said, referring to the band's most recent album, its eighth, released in 2003. The crowd watched the performance through 3D glasses as the national cycling team of Britain raced around the stadium. "They were so fast," he recalled. "I think this was just the most delirious performance."
This spring, Mr. Biesenbach, who also serves as chief curator-at-large at MoMA, will bring that delirium to the museum. For eight straight nights, April 10-17, its soaring atrium will play host to concerts by the famously reclusive group in what the museum is terming a "time-based retrospective," titled Kraftwerk–Retrospective 1 2 3 4 5 6 7 8.  Each night the quartet will perform one of its albums, moving in chronological order from the laid-back jams of Autobahn (1974) to the taut, precise Tour de France, accompanied by elaborate sets and visuals designed by the group.
To say the event proved popular would be a gross understatement. When tickets went on sale last month, the series sold out in less than two hours, and the online ticketing site crashed. But those who failed to snag tickets are in luck. Kraftwerk is designing a special eight-screen surround-sound video installation for MoMA PS1's performance dome, the Epcot-style structure that Mr. Biesenbach recently established at his Queens museum. "You can just go there, lie down, and totally dive into Kraftwerk," he said. "It's open for everybody." In addition, during the day, listening stations will be available at MoMA for visitors.
When he spoke with The Observer, Mr. Biesenbach was preparing to visit the group's Kling Klang studio outside Düsseldorf, Germany, to see the work, which is being made specifically for the New York shows. From around 1970 to 2009, Kling Klang was in Düsseldorf, though its exact location was a closely guarded secret. In 2003, a Guardian writer visited the city in search of the studio. He questioned a local record-store owner and found the bicycle shop frequented by Kraftwerk cofounder Florian Schneider, but he never found Kling Klang.
Mr. Schneider left the group to pursue solo projects in 2009, ending a 40-year collaboration with Ralf Hütter that began when the two were students at a music college in Düsseldorf, which was the center of Germany's contemporary art world at the time. Just as Messrs. Hütter and Schneider were experimenting with early electronic instruments, the dealer Konrad Fischer was showing pioneering Conceptual and Minimal art, and Gerhard Richter and Joseph Beuys were teaching at the city's art academy.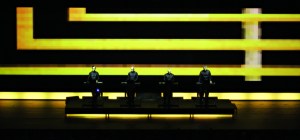 After three early albums of jams and experiments, Kraftwerk's cofounders quickly found their distinctive sound on Autobahn: precise, pop-inflected electronic dance music paired with simple, ambiguous lyrics processed through a vocorder. The songs celebrate technology while also highlighting its alienating effects. "Wir fahr'n fahr'n fahr'n auf der Autobahn" ("We are driving, driving, driving on the Autobahn") they sing on the 22-plus-minute "Autobahn," mimicking the chorus of their heroes, the Beach Boys, on their 1964 hit "Fun Fun Fun."
Like the Beach Boys, Kraftwerk's members expertly crafted their images. By their next album, Radio-Activity (1975), they had all adopted the same signature close-cropped haircuts and identical outfits. "After the war, German entertainment was destroyed," Mr. Hütter told the music critic Lester Bangs in Creem in 1975, "The German people were robbed of their culture, putting an American head on it. I think we are the first generation born after the war to shake this off."
"They are one of the very few bands who created a style," said Monika Sprüth, the cofounder of the London/Berlin/Cologne gallery Sprüth Magers, noting Kraftwerk's connection to early 20th-century Russian Constructivism, which informed the sharp geometries and bold colors of their album covers and stage sets. She met Mr. Hütter in the late 1960s, when they were in architecture school together, and now represents the band through the gallery. "We're not selling anything from Kraftwerk," she said matter of factly. "I'm the adviser."