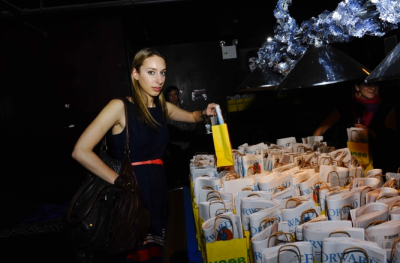 The publisher of a 10-year-old Jewish periodical that is no longer in print still has plenty of things to worry about.
"Are the knishes kosher?" one partygoer kvetched to Heeb magazine's David Kelsey last week, before sinking her teeth into the uninviting clump of potato.
"They're kosher, but not Glatt kosher," said Kelsey, as the guest scurried off to nosh.
Mr. Kelsey has been running Heeb for the past two years, as it transitioned to a purely digital product. The magazine's niche has leaned toward young secular Jews since New York Times scribe Jennifer Bleyer founded it in 2002. One year later, publisher Joshua Neuman refashioned it to encompass an entire lifestyle of ironic urban living.
And while Mr. Neuman and the pulp are gone, the pithy commentary and the festivities—including the decennary anniversary party at Fontana's—remain.
And yet.
"I miss the euphoria of an issue hitting," said Mr. Kelsey. "That's so exciting when you're a quarterly, as opposed to when you're a daily."

The Observer said we missed the covers, especially the ones featuring Israeli model Bar Rafaeli in a swimsuit and Sarah Silverman wrapped in a white bed sheet.
"I totally miss the covers," he agreed. "That's probably what I miss the most."
We rarely make a point of arriving early, but the city's most controversial spirit, Wodka Vodka, was one of the party's sponsors. The brand is known for its blunt, some would say offensive, advertising and Fontana's offered free mixed vodka drinks from 8 to 9 pm. Like many of Heeb's guests, we wanted to try it without paying for it.  As it turns out, we made the right call.
"I'm not a vodka drinker," said Heeb's Jonathan Poritsky. "It's free and I'm not one to judge.
Mr. Kelsey corraled more Heeb staffers including Jeff Newelt, who edited Harvey Pekar's (American Splendor)  web comic series "The Pekar Project" and has even been a character in the author's comics. (He reported his pride in Pekar's posthumous novel, Cleveland, which he also edited and arrives next month.)
"Harvey was more of a mensch, more of a Jewish grandmother than a curmudgeon," Newelt said. "The movie focused on his grumpy side, but he was the most appreciative person on the planet."
And the vodka?
"It's pretty damn smooth. No bite. Nice finish. I'm a vodka drinker. I've yet to cringe. The drink special ended just as a line started to forms downstairs, where mini-knishes were being served.
"Have you ever seen Jews stand in line before for food?" asked the Jewish Daily Forward's associate publisher Barry Surman. "Usually they push their way to the buffet."
Heeb managing editor Abigail Greenbaum said that she had in fact witnessed such a line.
"I grew up in the Catskills," she explained.
We asked Ms. Greenbaum whether Wodka sponsored the party in order to repair its image among the Jewish community after one of its billboards led to a New York Post story, headlined, "Booze ruse screws Jews."
"There was nothing they needed to repair," she said.
In the back room there were about 150 Heeb gift bags neatly arranged on a pool table.
At past events, guests enjoyed a sundry bag of self-hating Jewish commodities, such as bacon-flavored lip gloss and a vibrator. This year? Office supplies.
The swag included: a copy of the Forward, a disposable Flat Rate Moving pen, a plastic Flat Rate paper clamp, a stack of J Space Post-It notes, a Flat Rate tape measure, a Modern Tribe chocolate gelt candy, a gold-colored Heeb lapel pin and postcard of Yonah Shimmel's Knish Bakery
On our way out, we spotted Orthodox bike maven Baruch Herzfeld (best known for once shoving a caffeine suppository into his posterior before Rosh Hashanah, for an article he was writing) perched himself near the stairs.
He was chatting up a woman named Sarah who left a strict Hasidic sect in Boro Park (but does not have a book coming out about her experience.) She asked if we had a joint. We didn't.
Jackie Mason's daughter, Sheba Mason, happened by. She said the event was a "lovely party," but could have used more dancing.
In addition, she found the cuisine somewhat typecast.
"Knishes are a stereotypical food," Mason noted. "[Jews] also eat chips and salsa sometimes."