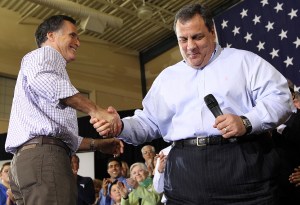 A stealth PAC that has supported New Jersey Governor Chris Christie with a $1.5 million television ad campaign is linked to the same political consultancy that has raised $12 million for a super PAC that backs Mitt Romney. Carl Forti, who was Mitt Romney's National Political Director for his 2008 campaign, has since been dubbed Mitt Romney's "money man" because of his work with Restore Our Future PAC, a political action committee created to support Mr. Romney in this election cycle. A partner at Mr. Forti's Black Rock Group is also working with  the Committee For Our Children's Future, a stealth PAC dedicated to promoting the "reform movement" led by Mr. Christie, who many observers speculate could be a running mate if Mr. Romney is victorious in his quest for the Republican nomination.
Restore Our Future PAC has purchased ads touting Mr. Romney's "detailed plan to turn around America's economy," attacking Mr. Romney's rival, Newt Gingrich, and lauding Mr. Romney's efforts to help a co-worker find his missing teenage daughter in 1996. As a super PAC, Restore Our Future  is not required to disclose its donors, but the little that is known about the company includes substantial connections to Mr. Forti and other veterans of Mr. Romney's 2008 presidential campaign. The committee revealed the members of its board of directors in the press release announcing its launch last June. That board was composed of Mr. Forti, Charles Spies and Larry McCarthy. Like Mr. Forti, both Mr. Spies and Mr. McCarthy worked on Mr. Romney's 2008 presidential bid–Mr. Spies was the campaign's CFO and counsel, Mr. McCarthy was a member of the media team. Mr. Forti isn't the only connection between Black Rock Group and Restore Our Future. Brittany Gross, a project manager at Black Rock, has served as the PAC's spokeswoman.
Committee For Our Children's Future is a stealth PAC 501(c)(4) organization, which means it discloses even less information than a super PAC. There is little public information about the company apart from a P.O. Box address in Bernardsville and the name of its spokesperson, Brian Jones, who is also a partner of the Black Rock Group along with Mr. Forti.
The link between Black Rock and Committee For Our Children's Future isn't the only tie between Mr. Romney's Super PAC and Mr. Christie, who endorsed Mr. Romney last October. A committee dedicated to putting Mr. Christie in the presidential race, Draft Christie For President Inc., has been wholly supported by a Utah political consultancy called Arena Communications. The only contributions received by Draft Christie For President Inc. are a series of five donations last summer from Arena Communications totaling $5,411. Arena Communications has also worked with Restore Our Future. So far this year, Arena Communications has received $670,973 from Restore Our Future for email campaigns and mailings supporting Mr. Romney and attacking his Republican rivals.
In the past two weeks, Arena Communications has been paid $572,174 by Restore Our Future PAC including $257,600 for mailings attacking Mr. Romney's opponent, Rick Santorum, and $314,574 for mailings that expressly backed Mr. Romney while also criticizing Mr. Santorum. Between January 28 and February 1, Restore Our Future paid $5,799 to Arena Communications for pro-Romney email campaigns. On January 27, Restore Our Future gave Arena Communications $93,000 for an email campaign opposing Mr. Gingrich and backing Mr. Romney.
We reached out to the Romney campaign and Governor Christie's office for comment on this story this afternoon. As of this writing, the Romney campaign hasn't responded to our request. A spokeswoman for Mr. Christie declined to comment.
"That question would be better suited for the Committee For Our Children's Future, we don't really have anything to say about that in the governor's office," she said.
As of this writing Mr. Forti and the Committee For Our Children's Future's spokesman, Brian Jones, also have not responded to our request for comment on this story, but we did reach their co-worker at Black Rock Group, Ms. Gross, who is also the spokeswoman for Restore Our Future PAC.
"I can tell you that Brian Jones is spokesperson for the Committee For Our Children's Future, so we do their P.R.," Ms. Gross said. "Brian Jones is not connected to Restore Our Future."
Though she said there was no connection between Mr. Jones and the pro-Christie committee, Ms. Gross said "various members of our team" at the Black Rock Group were doing P.R. for both groups.
"We also do P.R. for Restore Our Future," she said.
Ms. Gross declined to comment on why Black Rock Group was putting its resources behind Mr. Christie and Mr. Romney. She also declined to comment on the activities of Arena Communications.