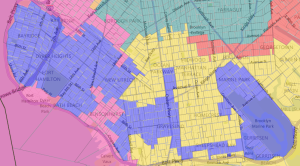 Albany released the text of the new State Legislative lines last night, but not the maps, resulting in limited clarity for what the new maps will look like. At first glance at the 20,000 word document, it seems a partisan gerrymander remains in place.
However, Albany also released a legible redistricting document last night, the constitutional amendment to permanently reform the process in the future in 2022. The proposed amendment appears designed to lock in this year's set of maps rather than create any sort of truly independent commission. "The commission shall consider the maintenance of cores of existing districts, of pre-existing political subdivisions, including counties, cities, and towns, and communities of interest," the bill reads.
The emphasis of the commission is bipartisanship rather than independence. The composition of the commission will simply be a set of appointees from the majority and minority parties in both chambers of the Legislature, and those appointees then choose two registered Independents to join them. No matter what, however, the Legislature receives final approval over anything the commission submits.
Somewhat cynically, the rules governing the process change rather substantially if the Republicans are no longer in control of the State Senate. If the Senate and Assembly majorities are members of the same party, then, within the commission, the minority leaders' appointees are granted a unique decisive voice. Furthermore, the number of votes in the Legislature needed to approve the map increases to 66% if the same party controls both houses.
As Senator Mike Gianaris noted over Twitter, the amendment does not address systemic underpopulating/overpopulating of districts to achieve partisan outcomes or a number of other reforms good-government groups and newspaper editorial boards would likely like to see instituted.
It's unknown if the proposed legislation is sufficient to meet Governor Andrew Cuomo's approval in its current form.
Update: A spokesman for the Senate Republicans emails in this statement:
"We've made dozens of changes to the original maps, virtually all of them based on public input, and have advanced a constitutional amendment that would achieve historic reform of the process. As a result, this is an even better reapportionment plan."
View the bill below: