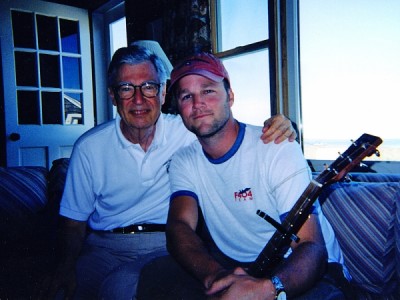 There are certain people one must simply never criticize. Call them the untouchables.
Nelson Mandela is one. Gandhi. Tina Fey. That guy from Wilco.
Even in this illustrious pantheon, though, Fred McFeely Rogers is in a class by himself—quite possibly the most universally beloved and venerated human being of all time. Even Jesus had a few enemies, right? Nobody doesn't love Mister Rogers.
And yet, it has to be said: the minister turned low-key children's television pioneer, the gentle soul who made the Keds Champion sneaker cool (and never took a dime of endorsement money)—did us wrong. In a what was no doubt a genuine attempt to protect young children from the brain-numbing evils of commercial television, he inadvertently helped to deliver us into the diabolical clutches of the enemy. By painstakingly cementing an ardent emotional attachment to the medium in his impressionable viewers, he groomed us for a lifetime of exploitation.
Although Mister Rogers' Neighborhood hasn't aired in several years, and it's been nearly a decade since the host hopped that last trolley to the Neighborhood of Make-Believe, the legacy of Mr. Rogers lives on, and not merely in all those cardigan sweaters one can spot on the L train. The cult of Fred, which has already spawned a number of books (including The Simple Faith of Mr. Rogers: Spiritual Insights from the World's Most Beloved Neighbor, by Amy Hollingsworth; and I'm Proud of You: Life Lessons from My Friend Mr. Rogers, by Tim Madigan), gives birth to another sacred text on March 20, with the PBS premiere of Mister Rogers & Me, a buttery pound of documentary fudge seemingly designed as the opening salvo in a Fred Rogers canonization campaign. (Mr. Rogers was not a Roman Catholic—he was an ordained Presbyterian minister, who was actually "directed by Church officials" to persue his divine calling through children's television, according to a 1988 profile in the Chicago Tribune. But maybe an exception can be made.)
This unctuous hagiography, which a cynical viewer might see as an extended propaganda piece for public broadcasting at a time of funding challenges, came about because first-time filmmaker Benjamin Wagner, a producer for MTV, had the good fortune to summer on Nantucket, scarcely a stone's throw from Fred Rogers' "modest gray shake-shingled house," as he puts it in a cozy voice-over.
Not that anyone is throwing any stones, mind you. While Mr. Wagner's title pays homage to Michael Moore's 1989 excoriation of GM ceo Roger Smith, it's fairly evident from the film's opening moments, in which the director is seen walking thoughtfully through Hell's Kitchen in a pea coat, shades and earbuds, that his is a more reverential approach.
Ben met Fred in 2001. It was late summer. September 11 was still more than a week away. Mr. Wagner was celebrating his 30th birthday, and Mr. Rogers ambled over to say hi. (Maybe he was bored—it was just a month after he'd taped the final episode of Mister Rogers Neighborhood.) Mr. Wagner was then working for MTV, and feeling guilty about it. He was a guy with "a PBS mind," as he puts it, "in a jump-cut, sound-bit MTV world, trying to figure out just what I can do to make it a better place."
Mr. Wagner's narration must be reproduced at length to fully demonstrate the challenges posed by aiming for heartfelt sincerity when one's deepest emotional utterances make Henrietta "Meow-meow good-feeling meow!" Pussycat sound like a hard-bitten nihilist.
"He asked about my plans, my hopes and my dreams," Mr. Wagner recalls of that fateful afternoon. "I sang for him, and when I finished, he clapped and we drank another glass of lemonade, and I smiled and smiled and smiled, because Mr. Rogers really was my neighbor."
Having thereby established his ironclad credentials as one of the true apostles of Fred, Mr. Wagner yields the floor to some other of Mr. Rogers "neighbors," all of whom seem to feel the broadcaster was a pretty special guy. They include the aforementioned Rogers groupies Mr. Madigan and Ms. Hollingsworth, Tim Russert (another untouchable); NPR veteran Susan Stamberg; Marc Brown, the creator of Arthur the Aardvark; broadcaster Linda Ellerbee, and This American Lifer Davy Rothbart, whose 2001 radio segment on Mister Rogers managed to be considerably sweeter than Mr. Wagner's film without being nearly as sappy. There's also Bo Lozoff, a spiritual guru and cofounder of the Human Kindness Foundation, who taught meditation and yoga to prison inmates for decades before sexual harassment accusations surfaced in 2008. The film doesn't touch on those, but they must not have been all that bad, because Mr. Wagner went ahead and had Mr. Lozoff officiate at his wedding.
All of neighbors testify to Fred Rogers' goodness, and there's little doubt that he was a wonderful person. The film recalls one signature moment in Rogers lore, in 1969, when he single-handedly persuaded a Senate subcommittee to retain a $20 million grant for the nascent Corporation for Public Broadcasting that President Richard Nixon was looking to cut in half. In his testimony, Mr. Rogers cast himself as a slow-talking, feelings-endorsing bulwark against the "bombardment" of cartoons the commercial networks were aiming at the nation's children.
Of course, that blitzkrieg has intensified.
As Dr. Susan Linn, founder of the Campaign for a Commercial Free Childhood and a longtime Fred friend, notes in the film, "Comparing the marketing of yesteryear to the marketing of today is like comparing a BB gun to a smart bomb."
Indeed, according to Mr. Wagner, children now watch an average of seven hours of TV a day (some of which might even include the work of Mr. Wagner, but whatever), and by the time they're 18, they've "witnessed 200 thousand acts of televised violence and 1 million ads."
Mister Rogers Neighborhood has long been viewed as an antidote. But what if we have it backwards? For more than three decades, the program was the first thing most American children saw on television. We watched it with our parents' hearty encouragement, because they believed, as Ms. Ellerbee puts it in the documentary, that they "were putting [their kids] into the hands of a man who would never do them any harm at all and would in fact do them a great deal of good."
Mister Rogers' Neighborhood wasn't like other things one might see on TV. The host talked and sang directly to us, which was sort of amazing. He recognized us, and didn't seem disturbed to find us already waiting in his house (or was it his house?) when he arrived each day from…work, or somewhere, dressed in a trench coat and suit jacket. He asked us questions in a measured, slow voice, and he listened carefully to our responses. He said we were special just the way we were. It was a little strange, really, how he changed into his play clothes every day but kept on his tie. But it was a ritual, and we needed some ritual. We were 2.
Most important of all, he liked us.
Eventually, though, it began to dawn on many Mister Rogers viewers—maybe around the time we discovered Sesame Street—that we'd been duped. That guy in the TV didn't know us at all! Television was a one-way deal, it turned, out, and he couldn't really see us or hear our eagerly shouted replies to his questions. We stopped talking back to the screen (except for Knicks games), quietly humiliated at our naivete. Soon we moved on to other shows, programming for big kids, with violence and commercials. And maybe deep down we wondered how special we actually were if Mr. Rogers was really just talking to a camera all along.
WTF, Fred?
Still, by then the damage had been done. The message had been imprinted on our tender minds: The television is your friend…the people on the screen are your neighbors…watching them makes you feel better, happier, more likeable, less confused.
No wonder we couldn't stop staring at the screen.
I know he didn't mean it, but Fred Rogers couldn't have designed a better gateway for the "plug-in drug"—as it was dubbed in 1977 by journalist and anti-TV warrior Marie Winn—if he'd tried. Incidentally, a few decades before she published her best-selling anti-television screed, Ms. Winn was a champion on the game show Dotto. That is, until a rival contestant found a notebook in which she'd jotted down the answers in advance, an event that led directly to the quiz show scandals, perhaps the nation's first collective reckoning with television's dark side.
Still, if Ms. Winn's success comes with an asterisk, so does our "specialness"—in both cases, the game was rigged.
I was toddler in the late 1960s when Mr. Rogers first became a national children's TV star. I watched some of the first episodes of Mister Rogers' Neighborhood, and I have it on good authority that I sometimes even talked back to the screen. I often wonder whether Fred Rogers didn't help get me hooked on the passive joys of television back then. By tricking me into believing that watching his show was a genuine lived experience, he helped turn me and many other kids into perfect targets for those 1 million commercials we'd soon be exposed to.
Still, if Mr. Rogers taught me anything it was to be nice to my neighbors. Mr. Wagner seems like a fine fellow. He made a movie. That must feel pretty special.