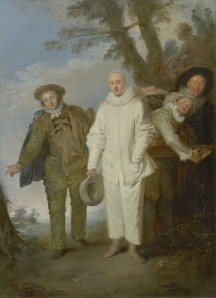 Before the J. Paul Getty Museum bought The Italian Comedians (ca. 1720), a painting believed to be the work of French artist Jean-Antoine Watteau, which it announced today, the museum's leaders summoned an ad-hoc authentication committee, composed of just about all of the world's top Watteau scholars, to weigh in. The decision was 7-3 in favor of the painting being either by Watteau, or a canvas left unfinished and finished possibly by his student Jean-Baptiste Pater, the Los Angeles Times reported.
The painting shows five comedians at a fairground, a common subject for French artists of the 18th century who were known for their depictions of traveling troupes of the commedia dell'arte players. Watteau was known for his images of fêtes galants or bucolic scenes with a theatrical mood, many of which involved the archetypes taken from Italian comedy, such as Pierrot, who is featured in this painting. Another of his paintings of Pierrot, called Pierrot, one of his most well-known, hangs in the Louvre.
"It shows Watteau at the height of his creative genius," said James Cuno, the president of the J. Paul Getty Trust, in a written statement about the new acquisition. But the Doubting Thomases say that, at 3 feet by 4 feet tall, it's a little larger than usual.
Nonetheless, there's another painting in existence by Watteau, also called The Italian Comedians, in the collection of the National Gallery in Washington, D.C. But the Italian players in that painting are on a stage. Scott Schaefer, the senior curator of paintings at Getty, believes the version just acquired by the Getty was painted around the same time.
When the painting went up for auction, Mr. Schaefer told the London dealers Hazlitt, Gooden & Fox, who were prospective bidders, that the Getty was interested in the work but wanted a chance to examine it more closely. After the auction, the Getty sent their conservator Yvonne Szafran to England to attend to the cleaning of the work. In December, the cleaned painting touched down in Brentwood where the polling scholars gave it a close once-over before rendering the final decision. The key piece of evidence? According to Mr. Schaefer, there was a drawing of Pierrot by Watteau that very closely matched the central clown in the painting. And the drawing was  undisputed.