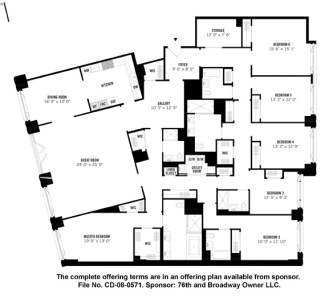 The Laureate has been one of the quietest successes of the real estate boom, in no small part because everyone buys anonymously and no one will talk about them. Unlike more heralded homes–15 Central Park West, the Rushmore, 100 11th Avenue–the most famous resident of the faux prewar beauty is the creator of Dora the Explorer.
That has not stopped the project from notching one blockbuster sale after another. It does not hurt that most units start at 3 bedrooms and six is not uncommon and the average price is $6 million. The building has just picked up its biggest sale yet, a double combo of the three apartments on the 11th floor. The price was $17.07 million, besting the previous record of only two weeks ago , when penthouse 1A sold for $15.59 million.
This absolute sprawl may not have the same views or terraces, but it was a deal by comparison. Combining a four-bedroom 3.5-bath, 2,876-square-foot A-line unit at the prow of the building with the already combined B- and C- line unit that features 6 bedrooms and 6 baths spread across 4,221 square feet, 11ABC is a true behemoth of a home, an Upper East Side mansion in the sky.
"Grand combination of over 7,000 square-feet," BHS Select director Shlomi Reuveni told The Observer over email. "Buyer needed a large, elegant and well-appointed home, complimented by Laureate's long list of amenities and services."
Is there a discount for buying bulk in bulk? "We do not offer discounts," Mr. Reuveni wrote. And indeed, the asking price for the two apartments was $8.4 million for 11A, which features a juliette balcony, and $8.8 million for 11BC, meaning the buyer got a middling $130,000 off–not much when you consider that is less than one percent of the purchase price.
And who might that buyer be? Mr. Reuveni, as always, refused to divulge even the profession or nationality of his client.
Whoever the buyer is, he or she may not hold the Laureate's crown (laurels?) for long–the same day this combination was taken off the market, so too was an offering for an $18.64 million combo penthouse, a head-spinning duplex with 10 bedrooms and nine baths. And the saga continues. How long before someone jumps on the $22 million penthouse?