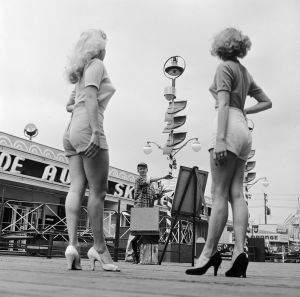 This week begins one of the busiest times for art exhibitors in the city and internationally, Armory Arts Week. Taking its name from the Armory Show, the roster of art fairs happening this week has expanded to include over 10 art fairs, from the sprawling Armory to hotel fairs. Here's a cheat sheet to the goings on.
THE ARMORY SHOW, March 8-11
With approximately 220 exhibitors, The Armory Show remains the biggest show in town. The fair, while still a monster, has reduced its numbers from last year's 274 to give it the feel of a "boutique fair," as Noah Horowitz told Gallerist. Well, we'll have to see about that. With a number of fairs that have grown up around it, and Frieze on the way, to which the Armory has already lost some numbers, the Armory's relevance is being questioned more than ever before. Whether or not the nearly 20-year-old fair—that had its beginnings at the Gramercy Hotel with a mere 30 galleries—continues to excite viewers remains to be seen.
Piers 92 and 94, 12th Avenue at 55th Street, New York, March 8-10 Noon to 8 p.m., March 11 Noon to 7 p.m.; Admission: $30 per day ($15 for students), and $60 for Run of Show Pass (4 day).
THE ADAA ART SHOW, March 7-11
Among all the other art fairs, the Art Show, organized by the Art Dealer's Association of America (ADAA), showcases a selection of museum-quality presentations from 72 exhibitors with contemporary art alongside master works of the 19th and 20th centuries. In its 24th year, the Art Show has the distinction of being the longest-running fine art fair in the nation and bills itself as the "most prestigious." With Gladstone Gallery, Pace, David Zwirner, and Metro Pictures on its roster, and a Park Avenue locale, it maintains its reputation as one of the toniest affairs in town during Armory Week.
Park Avenue Armory, 643 Park Avenue, at 67th Street, New York; March 7-11, Admission: $20
INDEPENDENT, March 8-11, at 548 West 22nd Street

Independent began three years ago during Armory week as an antidote to the art fair. Billing itself as "the temporary exhibition forum devised by and for gallerists" it aims to return to focusing on the art as opposed to the business of selling art. And though it is in fact an art fair, it has a decidedly unconventional take. It's much smaller in scale than the Armory with only 43 exhibitors,  and its vibe is still somewhat more adventurous, with more open space and fewer walls, it takes on the feel of a gallery rather than a fair. And this year, organizers have enlisted architect Christian Wassmann to conceive the exhibition spaces and design a rooftop pavilion to house a café and a handful of publications. With a roster of exhibitors including local galleries Gavin Brown's Enterprise, Untitled, Jack Hanley, and Elizabeth Dee as well as international galleries from Zurich, Dubai, London and Paris, this fair is fast becoming a main event in and of itself.
Independent, 548 West 22nd Street, New York. Thursday March 8: 4–9 p.m.; Friday March 9: 11 a.m.–8 p.m.; Saturday March 10: 11 a.m.–8 p.m.; Sunday March 11: 11 a.m.–4 p.m.; Admission: Free
SCOPE New York, March 7-11

Now in its eleventh year, Scope New York returns to Armory Week in a new location across from The Armory Show. The international fair features over 50 exhibitors—including Gallery nine5, Aperture Gallery and Bookstore and Artists Wanted—that exhibit "groundbreaking, emerging work in contemporary art and beyond." Being in such close proximity to The Armory Show, Scope stands to benefit from the overflow of the enormous crowds at the show next door, which for an exhibition of emerging art is not a bad thing.
Scope Pavillion, 57th St & 12th Avenue (West Side Highway); Hours: Wednesday March 7 3-9 p.m. (FirstView), March 8-11 11 a.m.-8 p.m.; Sunday 11 a.m.-7 p.m.; Admission: FirstView March 7 $100, General March 8-11 $20
DEPENDENT ART FAIR, March 10
Like many art fairs before it, the Dependent Art Fair had its beginnings last year as a hotel fair. Now, in its second year, this intimate art fair continues at the Comfort Inn on Ludlow Street with a modest 20 participants including some Brooklyn galleries, like Regina Rex and Cleopatra's, as well as some from the Lower East Side, like Callicoon Fine Arts and James Fuentes. And like last year's show, we expect the make-shift exhibition space to inspire some creative presentations—last year Canada Gallery presented a sculpture of an outsize pair of novelty glasses with a fake nose, on a bed.
The Comfort Inn, 136 Ludlow Street, New York, March 10 12-8 p.m.; Admission: Free.
VOLTA NY, March 8-11
Conceived with the aim of closing the space between Basel's art fairs, Volta NY works with "the most exciting emerging artists." The curatorial board changes annually, to change up the feel of each edition of the fair, which this year focuses on "single artist presentations," or "booth concepts that bring the work of two artists into dialogue." This invitational fair for contemporary art that focuses on single artist presentations, thereby differentiating itself from traditional art fairs as it "promotes a deep exploration" of the selected work on view. Mixed Greens, Envoy Enterprises and DODGEgallery are some of the 80 exhibitors presenting work. Also, it offers "mutual acknowledged VIP access and shared shuttles" with the Armory Show.
 7 W, 7 West 34th Street, between 5th and 6th Avenues, New York, March 8–11; Hours: Thursday 2-7 p.m., Friday – Sunday 11 a.m.-7 p.m.; Admission: $15, The Armory Show + VOLTA NY Dual Pass $4o.
MORE ART FAIRS, Everywhere, All the Time
For the full roster of art fairs and schedules, including Verge Art Brooklyn, Spring/Break Art Show, PooL Art Fair New York, New City Art Fair, Moving Image, Fountain, Art Now Fair, and related attractions, check the Armory Arts Week site.