Sean Stone was born in Santa Monica in 1984, the eldest child of Oliver and Elizabeth Burkit Fox, a production assistant and Oliver's second wife.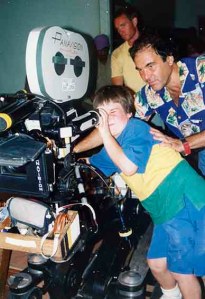 He made his screen debut at 6 months, with a cameo in Salvador. At age 2, he was playing Gordon Gekko's kid, "a fat little capitalist son," as he put it.
His earliest and clearest film memory was being on the set of Born on the Fourth of July, in which he was among a group of kids shooting at each other with fake guns in the woods.
"That's pretty intense when you're, like, 4," he said.
Mr. Stone's early film career was more a matter of convenience than raw talent. "He was available and I thought he was photogenic," his dad admitted.
Sean's parents separated in 1993 ("It was not an easy divorce," Oliver said), and Sean and his brother Michael lived with Elizabeth. When he could, Oliver took Sean on weekend trips "where he could be outside the normal Los Angeles 'shop, drive, and die' routine," said Oliver.
They also traveled the world, from East Africa to Tibet, where Oliver, an Episcopalian who had converted to Buddhism, introduced the then 9-year-old Sean to the Dalai Lama.
"It's a different kind of Buddhism, it's an atomistic form," Oliver said. "It must have been amazing for him."
The experience was eye-opening, Sean said. It inspired him to take up the practice of meditation and fostered a curiosity about all forms of spirituality.
It was also around that time that Sean began to discover his father's films, each one violent and provocative and dubious about the powers that be.
Mr. Stone was 7 when his father released JFK, a film that brought a mix of reviews both approving and vitriolic. The knocks on his father bothered him at the time, and still do.
"Of course it hurts," he said. "To me it's a disgrace that so many people get away with calling him a conspiracy theorist, when the truth is he's always based his work on evidence. He does his homework."
After graduating from Brentwood School, just around the same time the second Iraq war was getting underway, Mr. Stone considered joining the Army, "more out of a desire to have a life experience," he said. (Oliver, who dropped out of Yale and eventually enlisted in the Army in 1967, earning a Purple Heart and a Bronze Star for his service in Vietnam, recognized the impulse.) Rather than enlist, Mr. Stone wound up at Princeton, where he enrolled in the ROTC, bailing after a semester to focus on academics.
In 2009, after apprenticing with his father, Sean began to focus on his own filmmaking, starting with Graystone, which will be released on video-on-demand in the fall.
Mr. Stone's long-term goal is to be a filmmaker, though his father is quick to tamp down expectations. "It's very hard to assume the mantle, so to speak," Oliver said. "It's true about anybody in any profession, whether you're the stockbroker's son or a garbage man's son."
Mr. Stone agrees that it will be hard to step out from his father's shadow and make a name for himself, though that new middle name of his is certainly a start.
Even so, his embrace of Islam goes only so far. For instance, Mr. Stone isn't quite ready to forswear alcohol altogether.
"I know plenty of Christians and Jews who violate the Testaments all the time," he pointed out. "It all depends on how you practice."
drosen@observer.com